Map showing location of Horton cum Studley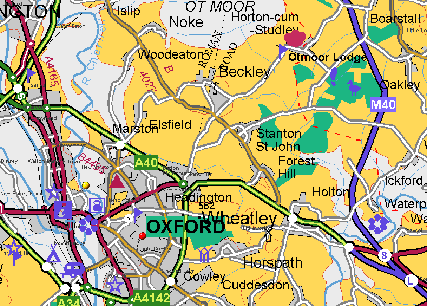 Map of the Otmoor area showing direction to Horton cum Studley
From London - M40 take J8 signed Oxford A40; dual carriageway to Headington roundabout. Last exit (signed Crematorium) for Horton cum Studley down Bayswater road (humps). Past crematorium, and after 2 miles, straight over at staggered crossroads (see Otmoor Lodge Sign). After another 2 miles you enter Horton cum Studley. Otmoor Lodge is on your right after a sharp right hand bend into the village.
From Birmingham M40 - take J9 signed A34 (Blenheim Palace). Take A34 south for Oxford. Second turn off for Islip/ Wheatley. Through Islip signed Wheatley after 4 miles turn left for Horton cum Studley (see Otmoor Lodge sign). Two miles to Horton cum Studley and the Otmoor Lodge is on the right after the sharp right hand bend into the village.
From the A34 south from M4 and Southampton. A34 past oxford to Islip-Bletchindon-Wheatley turn off north of Oxford and follow signs as from Birmingham above.
Horton cum Studley Tennis Club is situated behind the Otmoor Lodge Hotel from a footpath or from the Millennium Hall main entrance on the main Oxford Road.