How Phyllis Surman rediscovered her remarkable grandma.
I have received a newspaper cutting from 1976 from Norman Haynes who now lives in Herefordshire. The article was written by Anthony Wood.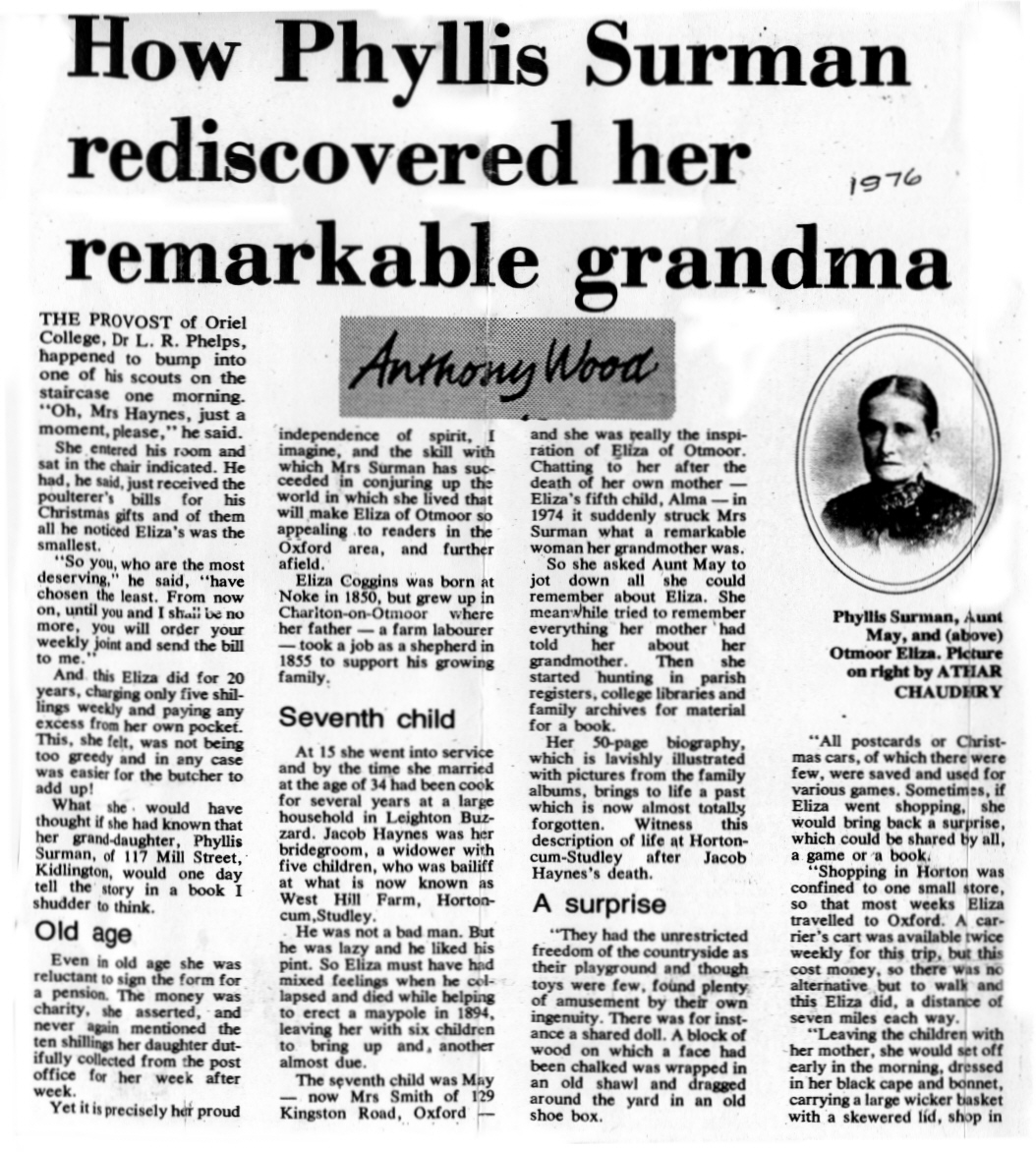 The cutting reads:
' THE PROVOST of Oriel College, Dr L R Phelps, happened to bump into one of his scouts on the staircase one morning. "Oh Mrs Haynes, just a moment please", he said. She entered his room and sat in a chair indicated. He had, she said, just received the poulterer's bills for the Christmas gifts and of them he noticed that Eliza's was the smallest.
"So you are the most deserving" he said, "have chosen the least. From now on, until you are I are no more, you will order your weekly joint and send the bill to me". And this Eliza did for 20 years, charging only 5/- weekly and paying any excess from her own pocket. This she felt was not being too greedy and in any case it was easier for the butcher to add up.!
What she would have thought if she had known that her grand-daughter, Phyllis Surman of 117 Mill Street, Kidlington, would one day tell the story in her book I shudder to think.
Old Age
Even in old age she was reluctant to sign a form for a pension. The money was charity, she asserted and never again mentioed the ten shillings her daughter dutifully collected from the post office for her week after week.
Yet it is precisely her proud independence of spirit, I imagine, and the skill with which Mrs Surman had suceeding in cunjuring up the word in which she lived that will make Eliza of Otmoor so appealing to readers in the Oxford area, and further afield.
Eliza Coggins was born in Noke in 1850, but grew up in Charlton on Otmoor where her father, a farm labourer took a job as shepherd in1855 to support his growing family.
Seventh Child
At 15 she went into service and by the time she married at the age of 34 had been a cook for several years at a large household in Leighton Buzzard. Jacob Haynes was her bridegroom, a widower with five children, who was bailiff at what is now known as West Hill Farm, Horton cum Studley.
He was not a bad man, but was lazy and he liked his pint. So Eliza must have had mixed feelings when he collapsed and died while helping to erect a maypole in 1894 leaving her with six children to bring up and another almost due.
The seventh child was May, now Mrs. Smith of 129 Kingston Road Oxford and she was really the inspiration of Eliza of Otmoor. Chatting to her after the death of her own mother, Eliza's fifth child, Alma, in 1974 it suddenly struck Mrs Surman what a remarkable woman her grandmother was.
So she asked Aunt May to jot down all she could remember about Eliza. Then she started hunting in parish registers, college libraries and family archives for material for a book.
Her 50-page biography, which is lavishly illustrated with pictures from the family album, brings to life a past which os now almost totally forgotten. Witness this description of life in Horton cum Studley after Jacob Hayne's death.
A Surprise
"They has the unrestricted freedom of the countryside as their playground and though toys were few, found plenty of amusement by their own ingenuity> There was, for instance, a shared doll. A block of wood which a face had been chalked was wrapped in an old shawl and dragged around the yard in an old shoe box. All postcards and Christmas cards, of which there were few, were saved and used for various games. Sometimes, if Eliza went shopping, she would bring back a surprise which could be shared by all, a game or a book.
Shopping in Horton was confined to one small store, so that most weeks Eliza travelled to Oxford. A carrier's cart was available twice weekly for this trip, but this cost money, so there was no alternative but to walk and this Eliza did, a distance of seven miles each way.
Leaving the children with her mother, she would set off early in the morning, dressed in her black cape and bonnet carrying a large wicker basket with a skewered lid, shop in the markets, and return home heavy laden.
In 1978 Eliza moved to Oxford, which she thought would provide opportunities for her children and in 1900 became an under scout at Oriel College, a job she held until the age of 70 and got to know Dr Phelps, a relationship which lasted until her death in 1930.
Small perks
It would be unfair to steal Mrs Surman's thunder by telling the full story of those years, but all me one final quotation.#"Inthose days there were small perks for those that worked in the college; leftovers from meals, dishes of real beef dripping, bread and butter left over from the nem's commons, all of which was a great help to Eliza and the children never went hungry. Meals were of the filling variety, suet puddings, spotted dick, jam rolls and rice puddings. Eliza was well skilled in culinary arts. The children vowed her beefsteak pie and rabbit pies were out of this world and her batter puddings, baked in an oval tin under the meat so that the juices were not lost, were delicious.
On Saturdays the girls had to help with the big cook-up for the week. In addition to the meat dishes, there was a big family cake to be made, sometimes fruit, sometimes a caraway seed fatty cake, its top surface scored in little squares and liberally sprinkled with sugar."
I hope that whets your appetite! Eliza of Otmoor is available from Mrs Surman at 117 Mill Street, Kidlington, price £1.50, postage and packing 15p.'
However please do not consider ordering from that address as the cutting is dated 1976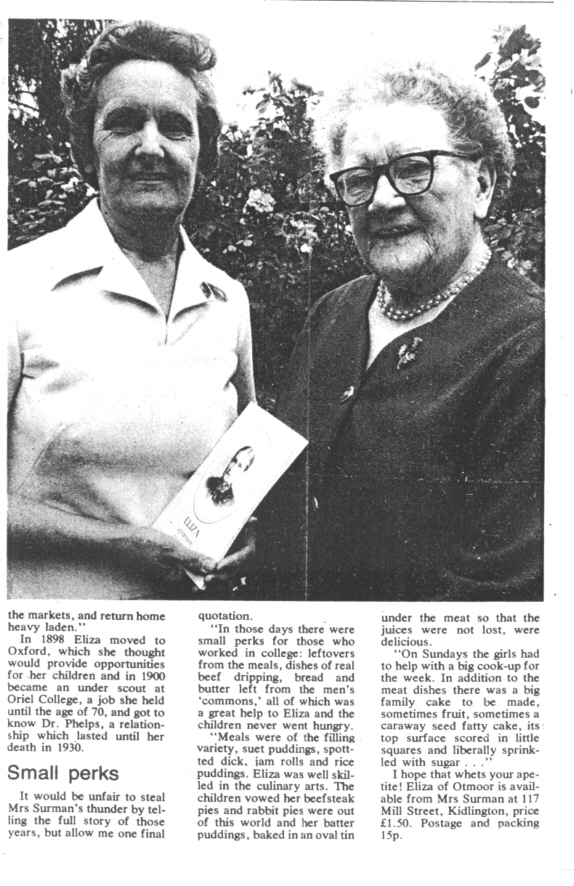 Phyllis Surman and Aunt May