The sale of The Abingdon Estate in 1919
The Earl of Abingdon and family owned much of Beckley and Horton until 1919 when the estate was sold. This must have been a momentous event in the history of the villages, but gave the chance for tenants to buy the property that they had rented. Viscount Bertie of Thame, the heir to the estate finally sold the estate in 1919. The estate had changed sine the estate maps of 1811 were produced and while a number of cottages and fields had been purchased from the Studley Priory Estate other land and fields had been sold mostly to sitting tenants.
The catalogue was kindly loaned by Mr Colin Badger of Manor Farm Horton cum Studley. His grandfather bought the farm just before this auction by Private Treaty. The copy appears to be an auctioneer's copy as it has penciled in the bids as they were made. Some lots were not sold on the day but already sold by private treaty or withdrawn. Some Lots just have an initial alongside and it is not clear what that meant.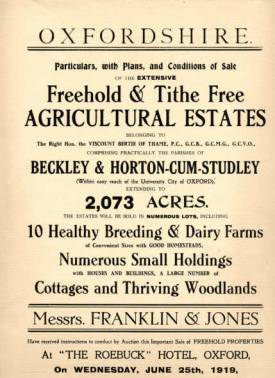 Beckley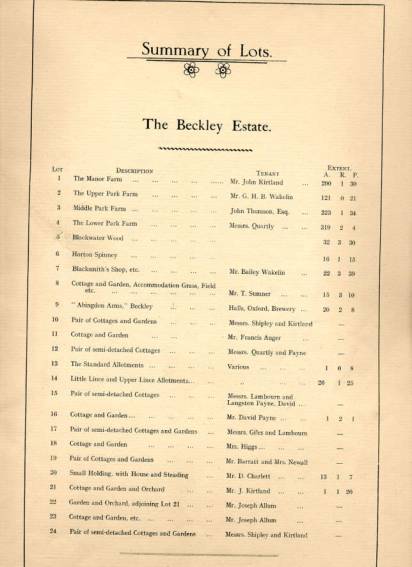 The sale was held on Wednesday 25th June 1919 at 2 O'clock at the Roebuck Hotel, Oxford. The sale included lands in Beckley and a total of 2,073 acres of land. The sale was conducted by Messrs Franklin & Jones.
Lot 1 The Manor Farm Beckley – 200 acres including a limestone quarry, and for an extra £266 3s 6d, growing timber. The farm had been occupied by Mr John Kirtland and John Thomson Esq.
Lot 2 The Upper Park Farm with 121 acres let to Mt G H Bailey Wakelin with £149, 16s 6d of timber. It was sold to Mr Wakelin for £2,500.
Lot 3 Middle Park Farm Beckley with 223 acres occupied by John Thomson Esq of Woodperry. Sold for £3100.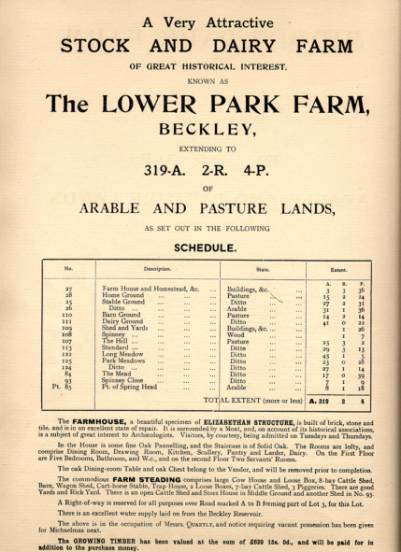 Lot 4 The Lower Park Farm Beckley with 319 acres. The house is described in the sale catalogue:
"The Farmhouse a beautiful specimen of Elizabethan Structure is built of brick, stone and tile, and is an excellent state of repair. It is surrounded by a moat, and of account of its historical associations is a subject of great interest to archeologists. Visitors by courtesy being admitted Tuesdays and Thursdays."
Lot 5 The Thriving area of Woodland known as Blackwater Wood of 32 acres. Sold to Avery Jones for £2200.
Lot 6 Horton Spinney of 16 Acres mainly oak. Not sold.
Lot 7 In the village of Beckley, the Attractive Accommodation Holding Stone and Thatched House, wheelwright & blacksmiths shop sawing shed and open shop with 22 arable land, Orchard, Standard Close, Hall Hill allotments & Spring Head Allotments. Sold for £1000. The tenant was Mr Bailey Wakelin.
Lot 8 The Attractive Small Holding comprising Cottage and Garden in the village of Beckley. Tenant Mr T Sumner.
Lot 9 The Well Known Inn being the Abingdon Arms with 20 acres including barn, orchard and pasture. It may have been withdrawn from the sale according to pencil notes in the catalogue.
Lot 10 A pair of cottages with village pound adjoining in occupation of Messrs Shipley and Kirtland. Sold to Mr Shipley for £110 who had a piggery in one of the cottages.
Lot 11 Cottage and Garden in Beckley Tenant Mr Francis Ager who bought it for £140
Lot 12 A pair of Semi-Detached Cottages in occupation Messrs Quartly & Payne Sold for £105.
Lot 13 The Standard Allotments sold for £73 to Mr Langston.
Lot 14 The Attractive Small Holding with 26 acres with Little Lince and Upper Lince Allotments together with an Allotment Barn and yard in the village. Sold for £575. The bidding appears to have started at £300 then 350 – 400 – 350 – 500 – 550 then 575.
Lot 15 Semidetached Stone and Thatched Cottages in the village in occupation of Messrs Lambourne and Langston; together with a Large Garden asdjoining in occupation Mr David Payne. Sold for £105 to Mr Langston.
Lot 16 A Small Holding with Cottage and Garden together with a part of Upper Lince Allotments occupied by Mr David Payne Sold to Mr Payne for £160.
Lot 17 A small Holding 1 acre occupied by Mr David Payne. Sold to Mr Payne for £160.
Lot 17 A pair of Semi-detached Stone and Tiled Cottages occupied by Messrs Giles and Lambourne. Sold to Mr Piper for £170
Lot 18 Cottage and Garden occupied by Mr Higgs sold To Mr Wing for £110.
Lot 19 A Pair of Cottages and Gardens in occupation of Messrs Barratt and Newall Sols for £125.
Lot 20 A Very Attractive Small Holding with Farm House and Steading & Pasture Lands with 13 acres in occupation of Mr D Charlett. Sold to Mr Stone for £600.
Lot 21 Accommodation Holding with Good Cottage and Garden and Large Orchard in occupation of Mr J Kirtland. Sold to Mr Newall for £340.
Lot 22 The Accommodation Land being a Garden and Orchard in occupation of Mr Joseph Allum
Lot 23 A Detached Stone and Tiled Cottage in occupation of Mr Joseph Alum. Lot 22 and 23 were sold together to Mr E H Cooke for £210.
Lot 24 Pair of Semi-detached Cottages with extensive gardens to the rear in occupation of Messrs Shipley and Kirtland. No sale is recorded.
Regrettably the Map showing the location of the Lots in Beckley was not with the catalogue. Has anyone a copy?
Horton Cum Studley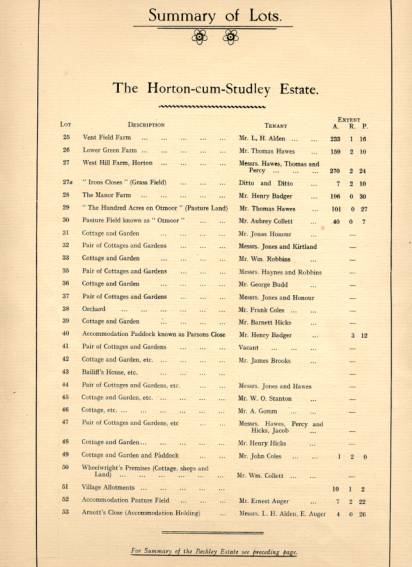 Click in name of property for map.
Lot 25 The Attractive Freehold Breeding and Dairy Holding known as Vent Field Farm with 233 Acres 1r 16p consisting of:
Farm House and homestead 1 acres 1 rood.26 poles
Home Close pasture 5.2.19
Little Ground pasture 2.3.30
Allums Close 1.1.28
Pain Stone Ground 8.2.28
Big Vent 21.2.17
Pain Stone field with cottage and buildings 9.0.16
Vent Field 23.1.34
Little Park Butts 6.3.27
Cow Ground 20.2.23
Common Ground 16.1.5
Big Park Butts 24.3.20
Horton Mead 21.2.15
Otmoor 67.2.38
Forman's Cottage and Garden 1.0.0
The comfortable house is situated close to the main road, and comprises of Dining Room, Drawing Room, Kitchen, Pantry, Cellar and 4 Bedrooms. The house is built of brick with a tiled roof adjoining which is a good farm steading mainly built of stone and tile comprising of cow house etc.. Excellent Cottage - The Lower Homestead comprises Cottage, Barn, Open Cart Shed, Loose Boxes. (This is the half timbered farmhouse almost opposite the church in Church Lane. Home Close is now the name of the house on the land and part of the farm is now Ventfield Close)
The farm is in the occupation of Mr L H Allen and Mr J Hicks. The growing timber valued at £404. 12s 6d to be paid in addition to the sale price. The farm was not sold at the sale.
Lot 26 Lower Green Farm with 159 Acres 2 Rod 10 Poles to include:
102 Farmhouse and Homestead 3r 11p
83 Home Close pasture 5.2.33
80 The Closes pasture 8.1.24
109 Bandley arable 9.1.15
112 Nash Field arable 10.1.6
114 ditto 4.3.6
111 Part of Lane pasture 1.1.6
100 Shed and yard
99 Shell Field pasture 7.2.15
98 Dunce Furlong 14.2.39
96 Greensward Ground 26.0.32
120 Cut Field 22.2.8
121 Little Ground 5.1.37
173 Otmoor 42.1.8
The farmhouse built of brick and tile comprises 2 living rooms, kitchen, dairy, cellar, 4 bedrooms and offices.
The Farm Steading comprises a brick and tiles cart horse stable and feeding pens, with loft over, nag stable and trap house, barn, piggeries, 4-bay wagon shed, cow house for 12, loose boxes and fowl house. In Greensward Ground there is a 4-bay cattle shed and a yard in Shell Field. There is excellent water supply from the Beckley Main system.
The Tenant Mr Thomas Hawes is under notice to quit at Michaelmas next. A right of way for timber carting for lot 6. A right of way is reserved over Field 98 for Lots 25,26,27. Right of way is reserved over Lane 111 for lots 28 and 42 and also for access to adjoining property owned by the trustees of the late John Henderson, Esq.
The farm was sold to Mr Thomas Hawes for £3500 plus £182 16s 6d for growing timber.
Lot 27a The Accommodation Grass Field known as Iron Closes 7 acres. Sold to Mr Auger for £260 plus £97 13s 6d for growing timber.
Lot 28 The Manor Farm Horton First Class Dairy and Breeding Holding of 196 acres 0 rood 30 pole, including:
126 Cuckoo Pen pasture 1.1.5
127 ditto 19.2.10
128 Steele's Ground 17.2.10
123 Steele's Ground 14.2.30
116 Little Marsh 2.2.14
115 Little Marsh 9.0.5
129 Water Leys 39.3.34
113 Seed Field 19.1.21
130 Mills Close 10.1.3
111 part Part of Lane 0.2.0
78 Franklin's 8.2.35
79 Franklin's Homestead 0.1.19
62 Part of field owned by Mr James Kirby 0.1.34
16 Home Close 24.3.37
15 Carbage arable 3.2.3
19 Farm House and Homestead 0.2.30
131 Cottage & Garden 0.1.38
ditto 0.0.27
The house, which is an attractive one, and in an excellent position is in a first class state of repair, improvements having been carried out at considerable expenditure. The accommodation consits of 2 sitting rooms, 2 kitchens,, dairy, 6 bedrooms and offices. The Farm Steading nearby, mainly of brick and stone, comprises a 4 Piggeries, Cart-House Stable, Trap House, 6-Bay Wagon and Cattle Shed, and loose boxes, Fowl House and Calf House with good yards.
The Lower Homestead (79 Franklin's) comprises of Large Barn, Stable, Wagon Shed, Cattle Shed and Piggery. No 131 on the plan comprises of Cottage and Garden which is excluded from the lot. The above has been in the occupation of the Badger family for a number of years. The present tenant Mr Henry Badger in under notice to quit expiring at Michaelmas next. The water tower is included in the sale. (Brill Road behind cottage opposite Studley Farm House).
The farm was sold to Mr Henry Badger by Private Treaty before the sale.
Lot 29 The Hundred Acres on Otmoor 101acres 0 rood 27 pole. Sold to Mr Thomas Hawes for £1250. (This field was acquisitioned by the Air Ministry in about 1940 and is now MOD owned as a part of the Otmoor Range safety area but has been used by the Hawes farm to graze cattle)
Lot 30 Adjoining Pasture Field known as Otmoor 40 acres 0 rood 7 poles, tenant Mr Aubrey Collett. Sold to Mr Thomas Hawes for £700.
Lot 31 A brick and Stone Tiled Cottage situated in Oakley Road occupied by Mr Jonas Honour with a large garden extending over ¾ acre with Wood House, 2 Piggeries and Fowl House. Sold to Mr Honour for £330. (now Kiln Cottage)
Lot 32 A pair of Brick, Stone & Tiled Cottages situated in Oakley Road occupied by Messrs Jones & Kirtland. There are extensive gardens and a wood house and piggery to each cottage. NB The Smith's Shop is the property of the tenant. Sold to E J Rose £200. (Pair of cottages next to Salcey)
Lot 33 A Brick Built Cottage adjoining Lot 32 in occupation William Robbins. There is a Wood Hovel and Piggery attached. Sold to E J Rose £100. (now Kimmeridge)
Lot 35 A Pair of brick and Stucco Cottages with extensive gardens in the occupation of Messrs Haynes & Robbins. There is a Wood House and Piggery with each cottage. Sold to My Haynes £120. (now the Old Weir)
Lot 36 Brick and Tiled Cottage occupied by Mr George Budd. There is a good garden and Wood House and Piggery. Sold to Mr Haynes for £70. (next to the Old Weir (south))
Lot 37 A Pair of semi-detached Brick and Tiled Cottages in the occupation of Messrs Jones & Honour. Sold to Mr H J Haynes £120. (Now Danesbrook/Cobbles)
Lot 38 The Productive Orchard in occupation of Mr Frank Coles. Sole to Mr E J Rose £90. (Now part of Aubrey House)
Lot 39 The detached Brick and Tiled Cottage with extensive garden in occupation of Mr Barnett Hicks. Sold to Mr Hicks £185. (Now Aubrey House)
Lot 40 The Accommodation Paddock known as Parson's Close in the occupation of Mr Henry Badger. Not sold at the sale may have been included in the sale of Manor Farm to Mr Badger. (Now the site of Mr Colin Badger's House)
Lot 41 A pair of Brick, Stone and Thatched Cottages in the center of the village of Horton with extensive gardens having a long frontage on Main Street. These cottages are vacant. Sold to E J Rose £135. (Now Whitecroft)
Lot 42 The Detached Stone, Brick and Thatched Cottages with good garden and pigsty in the occupation of James Brooks. A right is reserved for this lot to obtain water from a well of the cottage forming a portion of Lot 26. A right of way is reserved over Pt 111 forming a portion of Lot 26 for this Lot. Sold F Coles £50. (Now Mr Chris Beckley's Workshop, Mill Lane)
Lot 43 Bailiff's House with Good Garden, Estate Timber Yard, Carpenter's Shop. Bidding reached £220 but outcome not recorded. (The site of the Bungalow at West Hill Farm)
Lot 44 Pair of Brick and Tiled Cottages with Wood House and Pigsty to each. In occupation of Messrs Jones & Hawes with good gardens adjoining. A right to fetch water from Lot 47 (The cottage at the T junction to West Hill Farm). Sold Thos. Hawes £120.(Now Ragnall's Cottages and the area where the village pound was situated and now part of Ragnall's House))
Lot 45 Stone Brick and Thatched Cottages with Wood House and Piggery in occupation of Mr W G Stanton. Sold to Mr Stanton £75. (Ragnall's House)
Lot 46 The detached brick-built Cottage with Wood House and Piggery in the occupation of Mr A Gomm. A right to fetch water from Lot 49 and right of way for this lot over Lot 26.( The now demolished cottage on the footpath from Mill Lane to Ragnall's Lane)
Lot 47 A Pair of Brick-Built Cottages in the occupation of Mr Percy Hawes and Jacob Hicks. There are excellent gardens and Piggery to each. The main Beckley water supply is laid on. A right to obtain water is reserved to Lot 44. Sold £140 (The house at the T junction at the start of Ragnall's Lane)
Lot 48 A detached Brick and Stone-built Cottage with outbuildings and piggery in occupation of Mr Henry Hicks. Sold £65. (Now Otmoor View, Church Lane that was lived in by Ben Coles until his death in about 1988)
Lot 49 The attractive Tenement Detached brick-built Cottage with good garden and paddock adjoining, extending to 1 ½ acres. There are two wood sheds, The above is in the occupation of Mr John Coles. (Now demolished but roughly where Attock House and other houses are now located)
Lot 50 Wheelwright's Premises with Cottage, Shops and Land in the occupation of Mr William Collett. The cottage is a good one, and there are extensive Wheelright's Shops, and an excellent paddock. NB The Blacksmith's Shop is the property of the tenant. The right to fetch water from Lot 49 is reserved for this lot. Sold Mr Collett £150. (Now demolished but where Duffryn House is now situated)
Lot 51 Immediately adjacent to the Main Oxford Horton Road are the Village Allotments 10 acres 1 rood 2 poles. Sold £240. (The field opposite the Playing Fields)
Lot 52 Accommodation Pasture Field adjoining the main Oxford Road. 7 acres 2 rood 22 poles in occupation of Mr Ernest Auger. Sold Mr Auger £250. (The field beyond Horton Farm)
Lot 53 Attractive Accommodation Holding known as Arnott's Close with small Steading therein comprising Barn, Stable, Cow House and Calf Pen. In occupation of Messrs L H Alden & E Auger and extends to 4acres 0 rood 26 poles. Sold to Mr Auger £300. ( This is the field behind the Church up to the dividing row of bushes. The buildings of the steading are now ruins to be seen near to the footpath from Mill Lane to Ragnall's Lane)