Blog and Diary 2012 - 13
2011 - 12 Blog as Chairman Cherwell District Council
15th May 2012 - Oxfordshire County Council - elected as Vice-Chairman
for 24hrs I am both Chairman Cherwell DC and Vice-Chairman Oxfordshire County Council!
16 May 2012 - Cherwell DC Full Council - hand over Chairman to Cllr Colin Clarke
17th May2012 - Astronomy course at Kellogg College
19th May 2012 - Oxford University Mark Lodge No 55 meeting
21st May 2012 Attend as outpatient at Churchill Hospital for investigation and treatment
22nd May 2012 Bicester Master Plan briefing
23rd May 2012 Primary Schools Tag Rugby finals at Horspath - present winner's cups on behalf of Oxfordshire CC
Attend making Oxford Lord Mayor at The Town Hall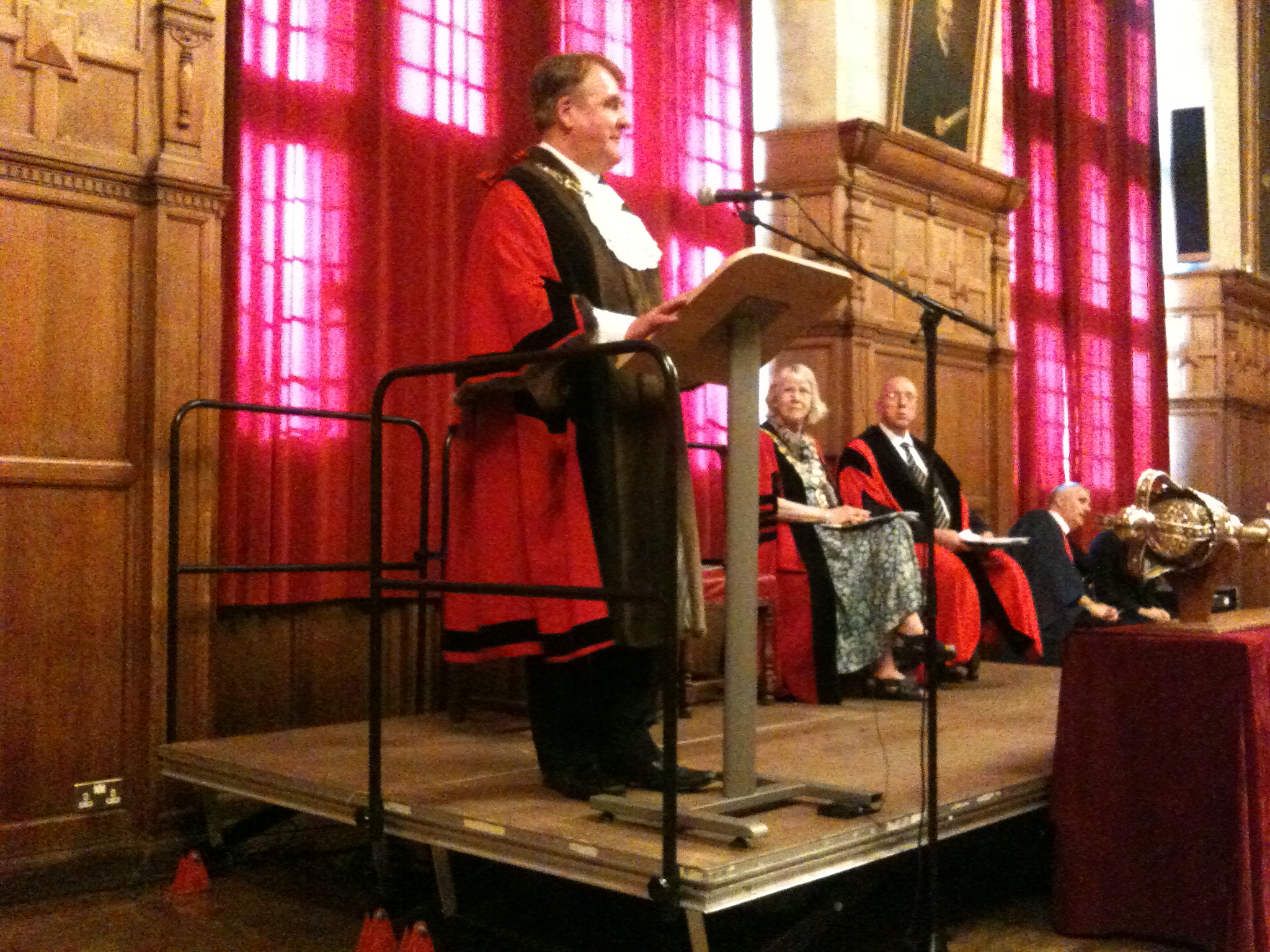 Cllr Alan Armitage accepts the role of Lord Mayor
Churchill Lodge rehearsal
24th May 2012 Oxfordshire Health Overview Scrutiny Committee
Manor Hospital for consultation for heart operation in August
Bletchington Annual Parish Council
Astronomy lecture
25th May 2012 Blue Plaque unveiling Kenneth Graham
North Oxfordshire Annual Dinner
Until 26th weekend visitors
30th May 2012 Emergency Planning briefing
31st May 2012 Strategy and Partnership Scrutiny Committee
Kellogg College
Bletchington PC
1st June 2012 Beating the Retreat - Brooks Barracks Abingdon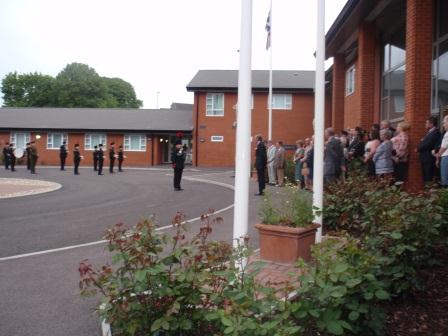 Tim Stevenson OBE, Lord Lieutenant, takes the salute.
4th June 2012 Jan's 70th Birthday 50 guests came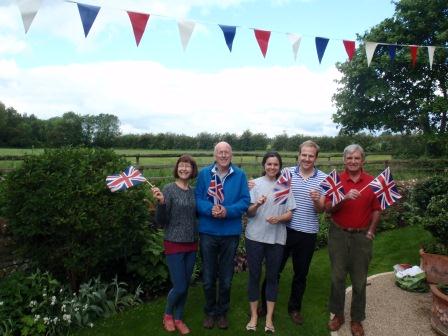 With family and friends in the garden
Lighting beacon at Oxford Castle
6th June Lodge rehearsal
7th June Kellogg College
9th June Otmoor Challenge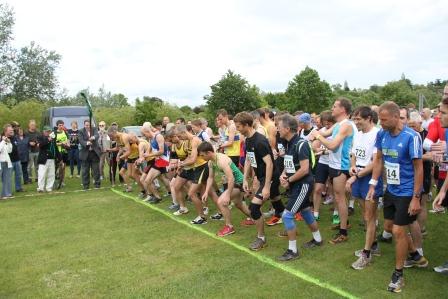 Dr John Howell MP starts the race
11th June Churchill Lodge
12th June Reception in Dorchester Abbey with Lord Lieutenant and Bishop of Dorchester
14th June Kellogg College
Horton cum Studley PC
15th June Patron's Reception South Oxfordshire CA
New grandson born in Australia (actually 16th in Australia). To Andrew and Jacqui Hallchurch a son Finlay Thomas Hallchurch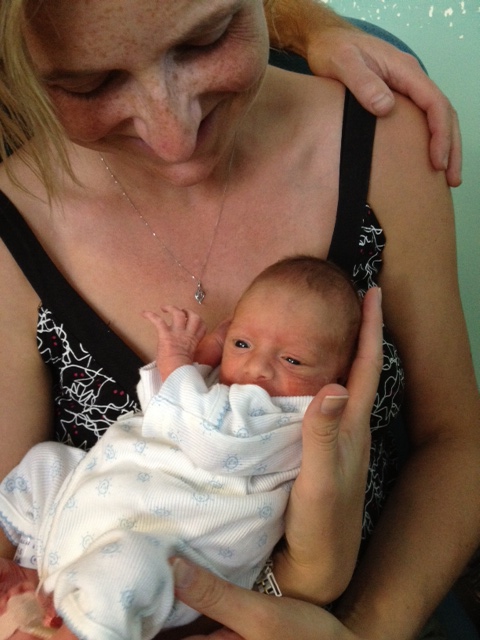 16th June Tettenhall College Old Boys Dinner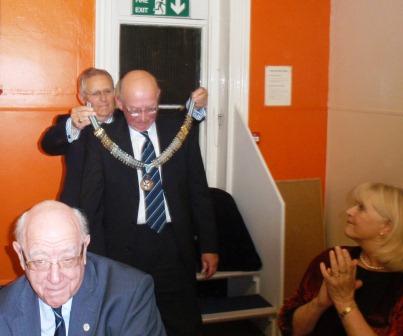 My cousin's husband, Stephen Corns, installed as President
17th June Evensong Rousham Church - Susie's Bands of Marriage
18th June Jan's brother arrives from Canada meeting at LHR
19th June Oxford Preservation Trust meeting and visit to Painted Room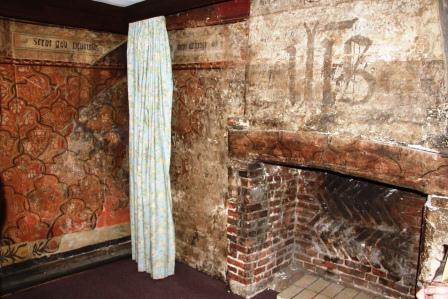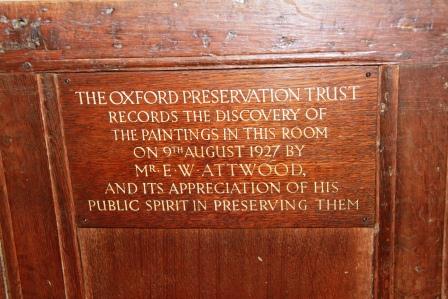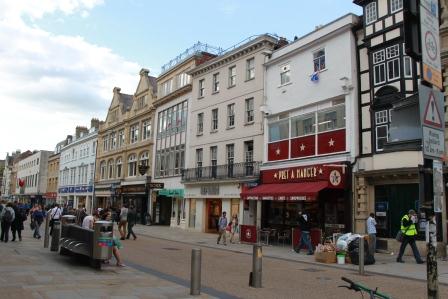 The building on Cornmarket, Oxford now Republic Shop and Betting Shop upstairs, hides a medieval ale house that was discovered when 18th panelling was removed. The outside has 19th century rendering that hides the building. The panelling has been restored on runners so that the walls can be exposed but protected.
20th June Degree ceremony Sheldonian Theatre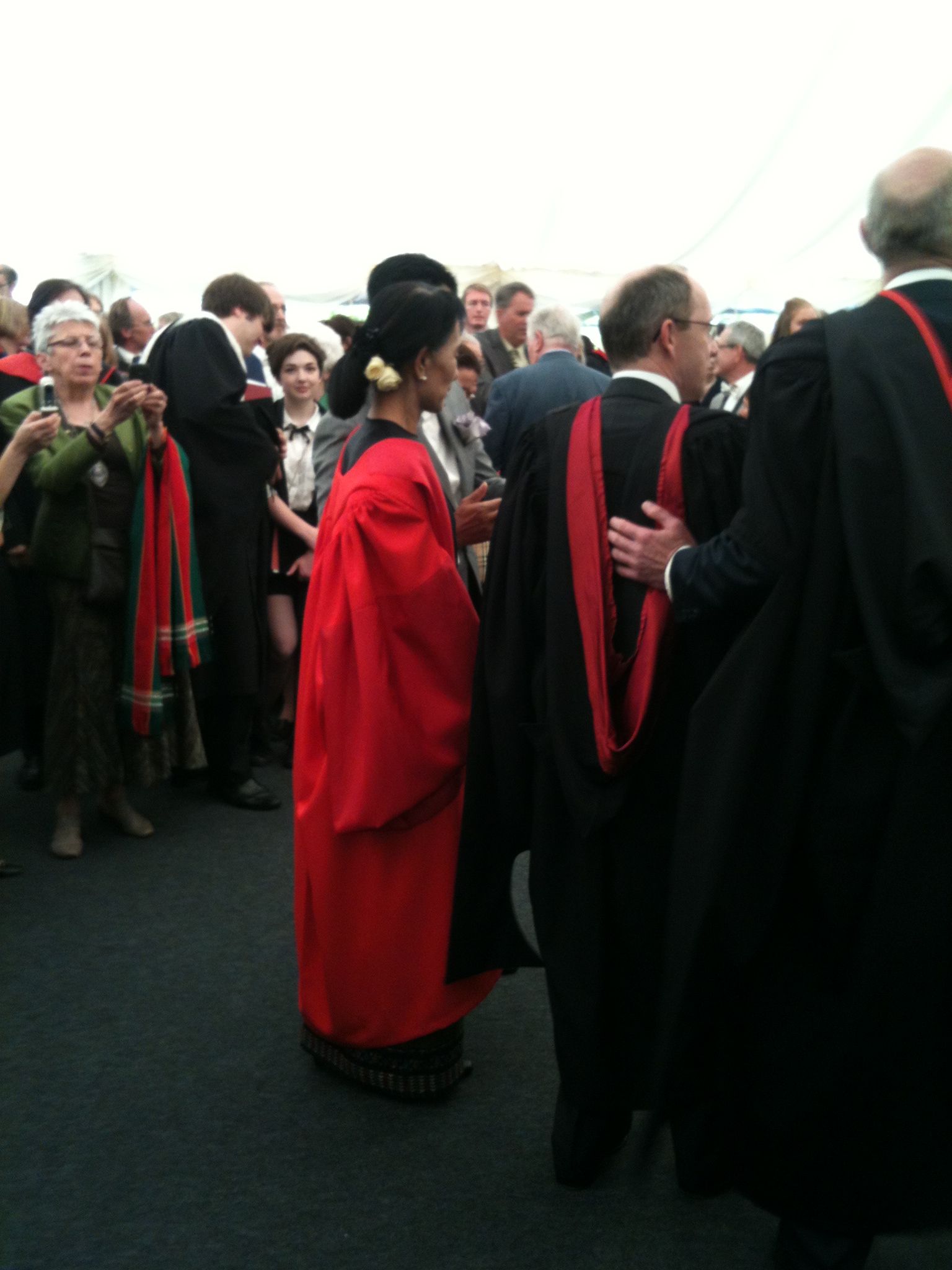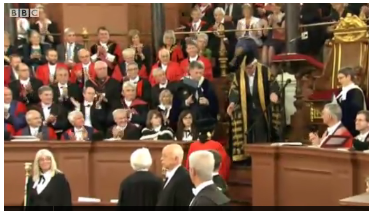 Lunch at St Hugh's College - with Aung San Suu Kyi and 200 others!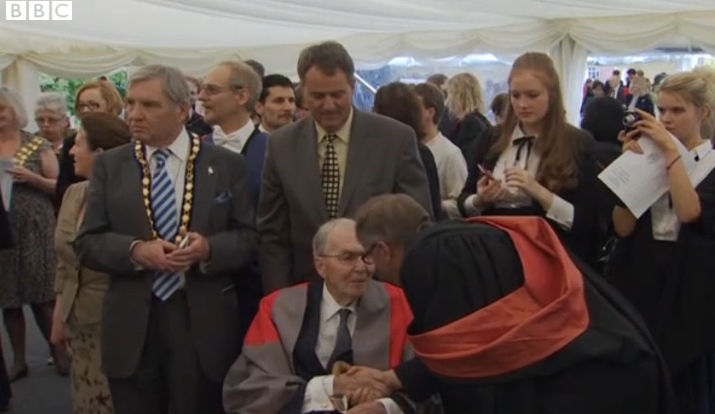 Pictures from BBC TV
Encaenia at Worcester College Oxford
21st June Kellogg College
22nd June English Speaking Union Broughton Castle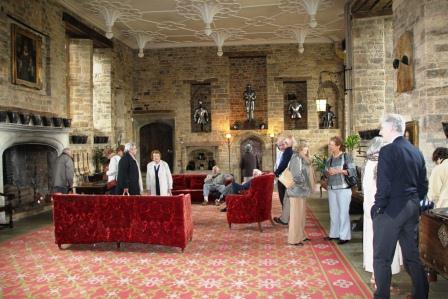 23rd June Oxfordshire CC Conservative Group Seminar
24th June Music Concert and reception Christ Church Cathedral and College
Fantastic performance by Oxfordshire Music Services youth groups.
25th June Queen's Diamond Jubilee Garden Party Henley
Fantastic day - I was one of 12 people from the county presented to HM The Queen and Prince Philip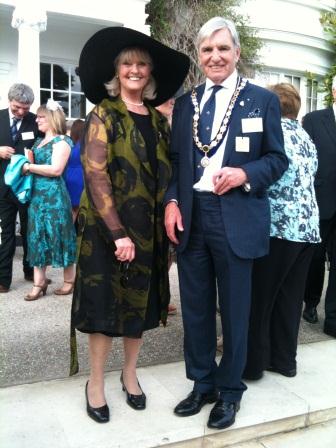 26th June Bletchington School and Village Hall project meeting
Welcomed and hosted a delegation of nine teachers from the Eastern Cape, South Africa who are on an exchange visit to Oxford. OCC provides redundant school furniture and other items for the schools in South Africa.
The visit included a tour of Oxford Castle
27th June Armed Forces Day - raising flag at County Hall
After giving a speech to the assembled military personnel and visitors, I asked the Lord Lieutenant to command that the flag be raised.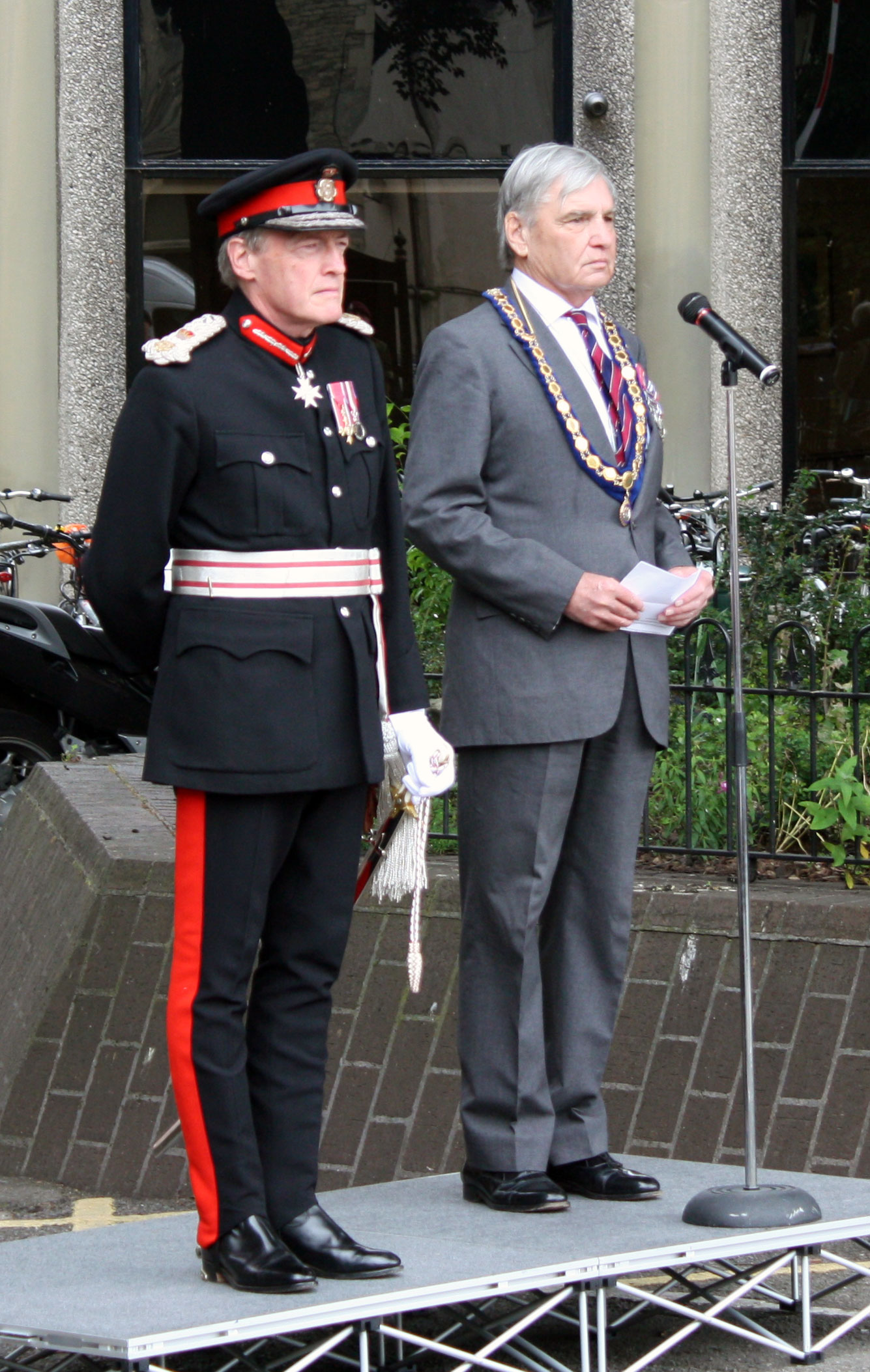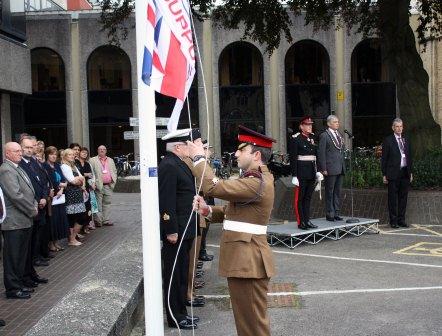 The Rifles post Afghanistan presentation at Brooks Barracks Abingdon - interesting insight into the regiments experience in Helmand Province from the soldiers who has been there.
They were very positive about the future and in praise of the Afghanistan Army.
29th June OCC Teachers Joint Committee
Cherwell DC Group Meeting
Bletchington Parish Council
29th June Cherwell DC Local Plan presentation Banbury
Oxford Preservation Trust AGM Maison Francaise
30th June Jan's family from Seattle arrive at LHR
2nd July Oxford Association of Local Councils
Victoria County History Trustees
5th July English Speaking Union AGM
South East Reserve Forces and Cadets meeting
6th July Susie and James wedding rehearsal Dinner - Bear Woodstock
7th July Susie and James's wedding Rousham church and house.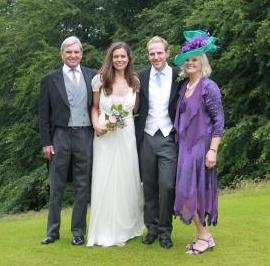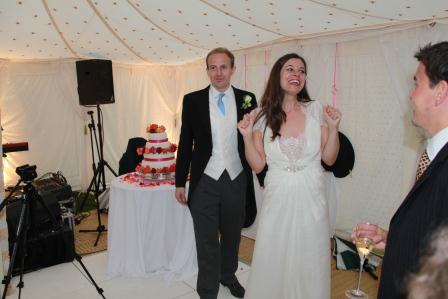 8th July Brunch for 50 at home
9th July Olympic Torch relay Blenheim Palace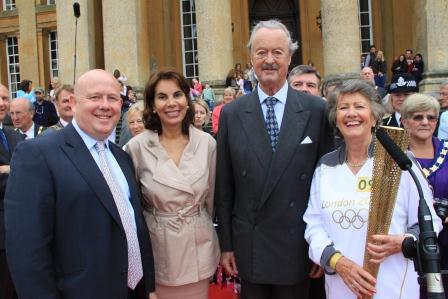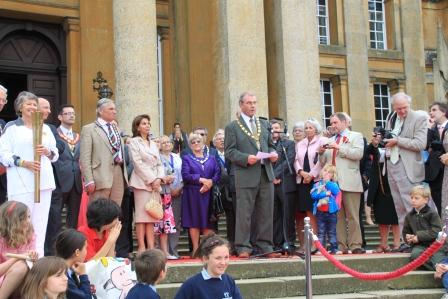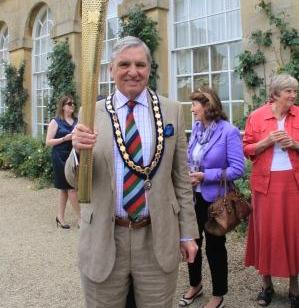 Ian Hudspeth Leader of Oxford CC with Duchess and Duke of Marlborough and torch bearer. Welcome by mayor of Woodstock I am standing with Duchess. Holding the torch!
10th July Depart for Greece with families until 21st July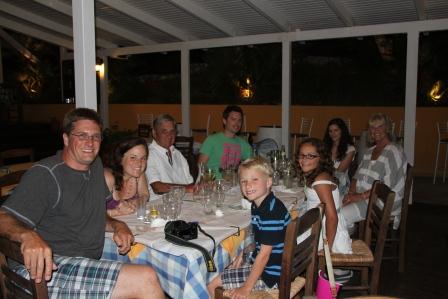 Our fantastic Villa (Alexander The Great!) and with Jan's son Nick with Sara Oliver and Abigail my son Philip with Sadie and baby Sam and Jan at the back.
23rd July - Family depart back to Seattle
26th July - Strategy & Partnership scrutiny committee
31st July - Code of Conduct briefing County Hall
1st August - Manor Hospital for tests
2nd August - Cherwell DC Conservative Group Meeting
3rd August - Churchill Hospital Tests
4th August - Dinner with friends to Manoir aux Quat' Saisons
7th August - Angiogram Manor Hospital
8th August - RMA Sandhurst 200th anniversary parade and lunch - did no attend due to operation!
9th August - Horton CS Parish Council - not attended.
10th August - Admitted to Manor Hospital
11th August - Heart surgery. After 6 1/2 hr operation awake about 5pm - Jan came to see me and I phoned son Philip. Skyped Andrew in Australia at 4am to say all was well.
12th August - Out of bed with two nurses carrying drip (attached to neck), catheter bottle, blood drain, Oxygen, pacemaker and monitoring device that transmitted data to the desk. Being the only patient in Intensive Care Unit, I have 2 nurses to myself!
13th August - First visitors other than Jan, Philip stays for supper (visitors can order meals in the Manor)
18th August - Home! No pacemaker and better still no warfarin needed.
19th August - Walk down to Thrupp Café for cream tea.
4th September - To Oxford for St Giles fair and theatre to see "Murder on the Nile"
6th September - Warborough for tea with friend
8th & 9th September - Fiends stay for weekend travel to Dorchester for OSJ concert in the abbey featuring Sir James Galway.
10th September - Back to work with County Council pre-meeting in County Hall
11th September - Co-chair County Council meeting but call it a day after lunch.
12th September - Bletchington working group, Otmoor Group at Charlton on Otmoor.
13th September - Back to Manor Hospital to see surgeon and have chest X-ray.
16th September - Battle of Britain memorial parade and service in Banbury
17th September - Cherwell DC Appeals Panel, interviews for candidates for 2013 local elections.
18th September - Back again to the Manor to have 24hr heart monitor fitted.
19th September - Manor again to have monitor removed.
20th September - Oxfordshire Veterans Forum Edward Brooks Barracks.
21st September - Victoria County History book launch Kelmscott Manor.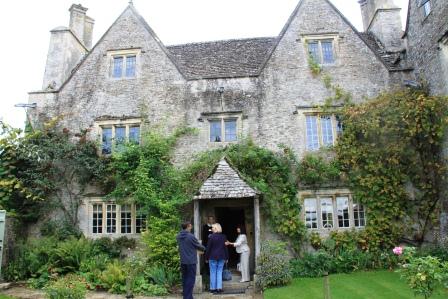 22nd September - Visit to Bothy Vineyard Frilford Heath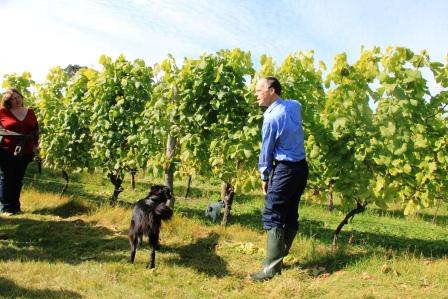 24th September - Victoria County History Trustees meeting
26th September - Cherwell Dc Conservative Group meeting.
27th September - Manor Hospital Cardiologist appointment
28th September - English Speaking Union Dinner, St Edmund Hall
29th September - Wedding in Bath held in the Roman Baths at 0830 in the morning.
3rd October - Kidlington Locality Meeting, Blue Plaques Board, Otmoor Archaeological & Historical Society.
4th October - OCC Strategy and Partnership Committee.
Manor Hospital for Cardioversion (electric shock treatment) to get my heart running correctly - success but drugs giving me a headache, back ache and stomach ache!
7th October - Harvest Festival Rousham
8th October - Meeting Dr South's School, Islip;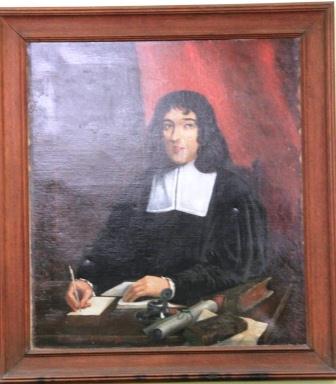 The only painting of Dr South
Lord Lieutenant's Awards
9th October - Law Lecture - University Exam Rooms then Law Sermon Christ Church
10th October - Cherwell DC Standards Committee
11th October - Cherwell DC Planning Committee
12 - 14th October - Kingston on Thames with friends on house boat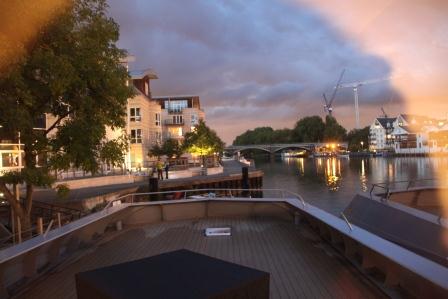 Long exposure night view from the boat
15th October - Cherwell District Council
16th October - Business Awards with Lord Lieutenant at Cowley.
Hosting schoolchildren at County Hall
St Frideswide Service Christ Church and dinner in college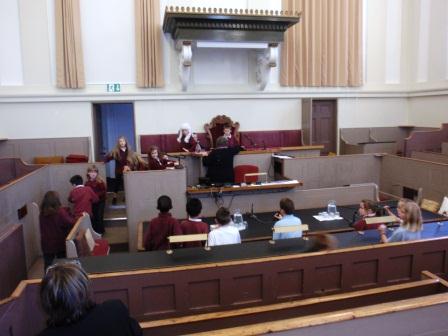 Children being "tried" in the County Hall Courthouse
18th October - OCC Conservative Group meeting
19th October - London Equator Lodge from East Africa
20th October - Lunch in House of Lords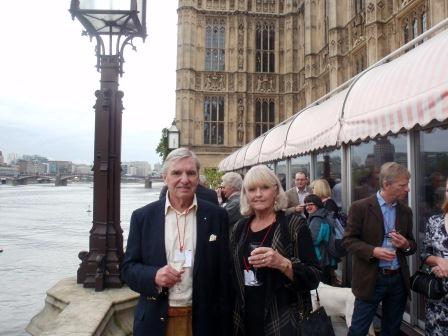 On House of Lords terrace
22 October - London Armoury, House Honourable Artillery Company Lodge meeting
23rd October - English Speaking Union welcoming Rhodes Scholars Oriel College followed by dinner
24th October - Oxford Strategic Ltd company AGM
Meeting St Hilda's College;
Lord Lieutenant's and OCC briefing for Deputy Lieutenants
25th October - Bletchington Parish Council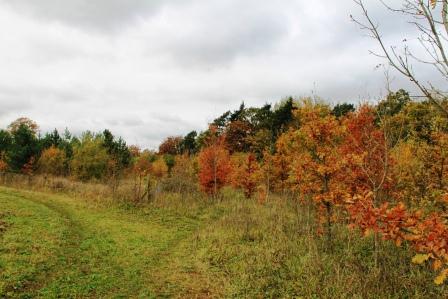 Trees at Thrupp
26th October - Dinner in Oxford
27th October - Conservative Group Seminar County Hall..
then to London to see "Tosca"
30th October Emergency Planning briefing
31st October - Healthwatch briefing
1st November - Churchill Lodge rehearsal
2 - 4 November - Llandudno after selling flat, bringing contents back to Oxford.
Storm approaching the Great Orme Llandudno Dinner at The Osborne Hotel & Restaurant - must be one of the best restaurants in Wales!
5th November - Churchill Lodge now held temporally at the Oxford Hotel as 333 Banbury Road has closed.
7th November - Silver Society Dinner at New College Oxford
8th November - Cherwell DC Licensing Committee
Horton cum Studley Parish Council
9th November - County Hall Children's Fires Poster Competition - giving the prizes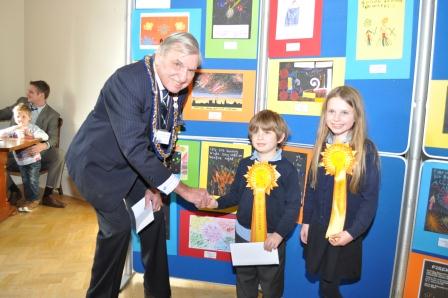 Presenting the awards to the winners
OCC Remembrance Ceremony, County Hall - laying wreath on behalf of Members of the Council
10th November - Oxfordshire Yeomanry remembrance Christ Church Cathedral
11th November - Laying wreath in St Giles Oxford on behalf of Oxfordshire County Council.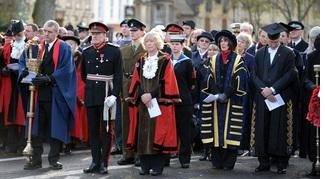 (Picture Oxford Times)
I am behind mace-bearer next to Lord Mayor also Lord Lieutenant, Sherriff of Oxford, Vice Chancellor of Oxford Brooks and Oxford University
13th November - Islip, Merton, Kirtlington and Shipton Parish Councils.
14th November - ABF Soldiers Charity Curry Lunch
15th November - Police Commissioner Election
Chairman OCC's reception County Hall
19th November - CDC Licensing Committee Bicester
20th November - Hospital Appointment following heart surgery in August.
21st November - Cherwell DC Conservative Group
22nd November - King Solomon's Quarries Lodge, London
24th November - Speaker at Old Tettenhallians Dinner Victory Services Club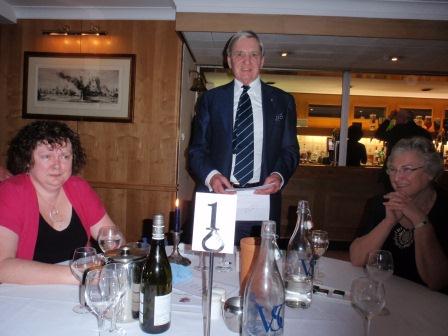 25th November - English Speaking Union Thanksgiving Luncheon St Hilda's College Oxford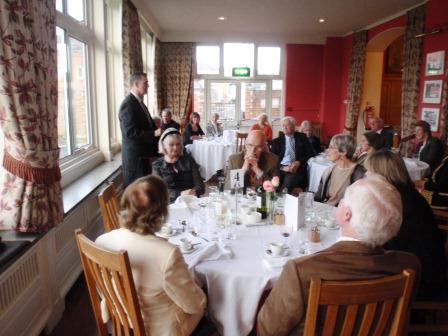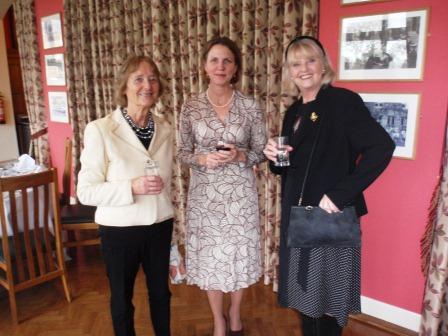 Colonel Charles Hamilton USAF speaking to the ESU members, Kate Parsloe, Wendy Hamilton (Col Charles's wife) and Jan (Dr Jan Carter). View from the dining room showing Magdalen College School playing fields
27th November - Cherwell Disability Forum,
Cherwell Conservative Group meeting
28th November - visit flooded are of Otmoor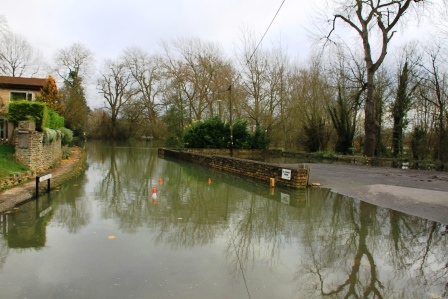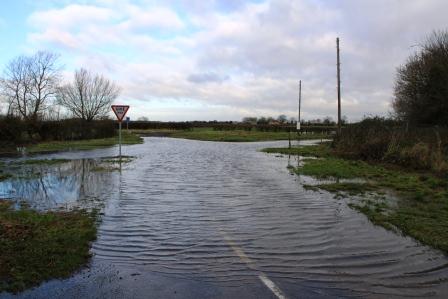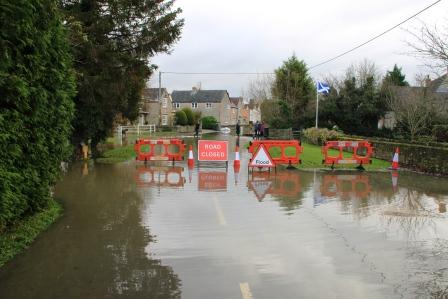 Lower Street Islip Islip to Merton - Oddington Turn - Fencott
Churchill Lodge rehearsal
29th November -Strategy & Partnership Committee
Broadband briefing for OCC Councillors
Conservative Patron's Dinner Leander Club, Henley.
30th November - Kids Lit Quiz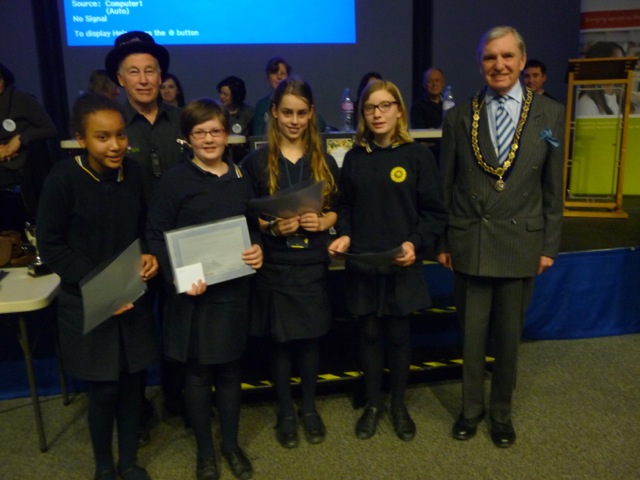 The Winners
Mayor of Woodstock's reception
1st - 2nd November - Philip Hallchurch and family staying
3rd November - Victoria County History lecture and reception
Churchill Lodge
4th November Oxford Preservation Trust Trustees meeting
5th November - Fun Run Christchurch Meadow with Lord Mayor presented prizes.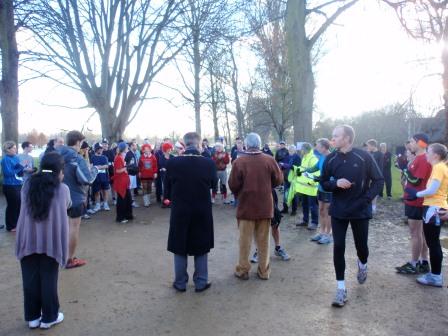 Otmoor Archaeological & Historical Society Dr Tony Hadland "Catholic Recusancy in Oxfordshire"
6th November - OCC Pre Council meetings
Opening of new wing Churchill Hospital by Duke of York.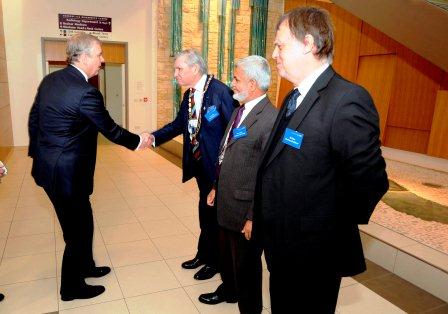 OCC Conservative Group meeting
7th - 9th December - Susie and James for weekend
8th December - Carol Service New College Oxford - fantastic music!
10th December - OCC Pre Council Briefing
11th December - OCC Full Council
Oxford University Vice-chancellors reception
12th December - Care Homes briefing
13th December - Christmas service Dorchester Abbey
14th December - Oxford University visit to Teddy Hall, Ashmolean and St Anne's College
15th -16th December - family visitors for weekend
17th December - CDC Licensing Committee.
Cherwell DC Full Council
20th December - embarked on a round the world trip to se families in Seattle and NSW Australia and to fully recover from my heart surgery in August 2012.
Flew to Seattle and met by Nick and Sarah and the children to spend Christmas and New Year.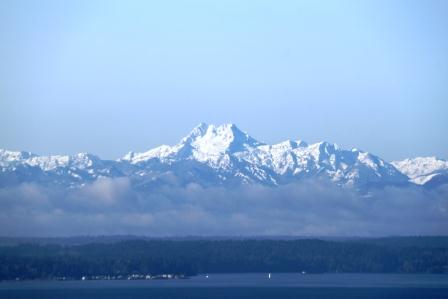 Seattle - sunset from Nick and Sarahs house - mountains across lake Washington
1st January 2013 - flew in Fiji via Los Angeles and arrived on 3rd January having crossed the dateline.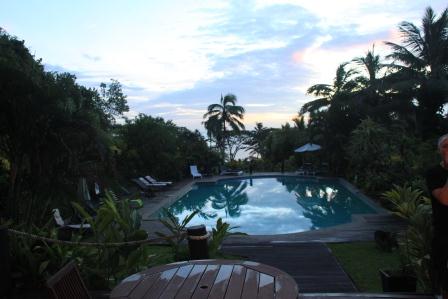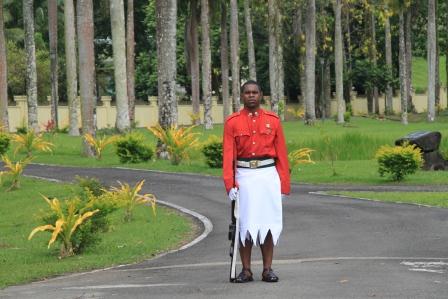 Resort in Fiji and guarding the palace
9th January 2-13 - Flew to Sydney met by Andrew, Jacqui and new baby Finlay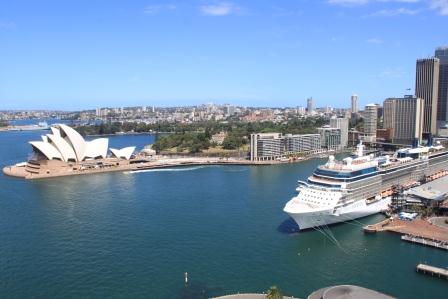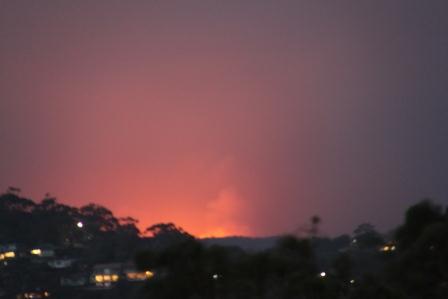 Sydney harbour and bush fires following 45.8 degree heat
20th January flew to Bangkok and after 36 hrs flew to Ranong and boat to Koh Pyhan island for a week with fiends from Hungary.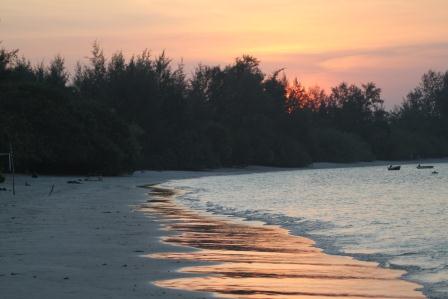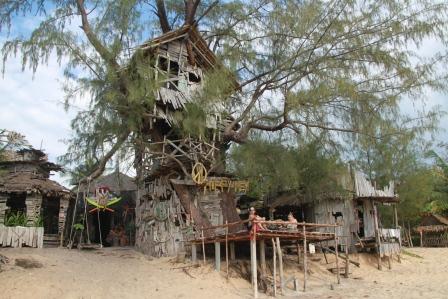 Koh Pyhan island the beach and "Happy" bar made of driftwood
27th January - back to Bangkok for 4 nights seeing the city.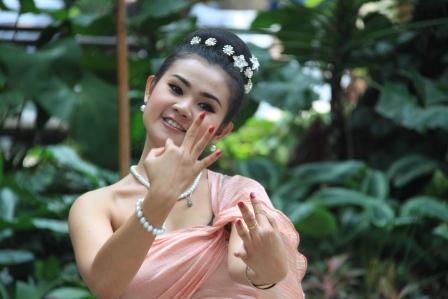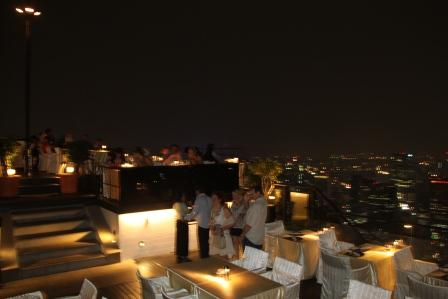 Bangkok - silk worker and dancer at Jim Thompson house and museum - dining at Banyan Tree Vertigo Restaurant on topof a sky-scraper above the city
31 January - flew back to Heathrow
4 February - Churchill Lodge
6 February - Otmoor Archaeological & Historical Society
12 February - Merton Parish Council
Islip PC
Kirtlington PC
14th February - Oxfordshire County Council meeting
OCC Conservative Group
17th February - Chinese New Year celebrations Town Hall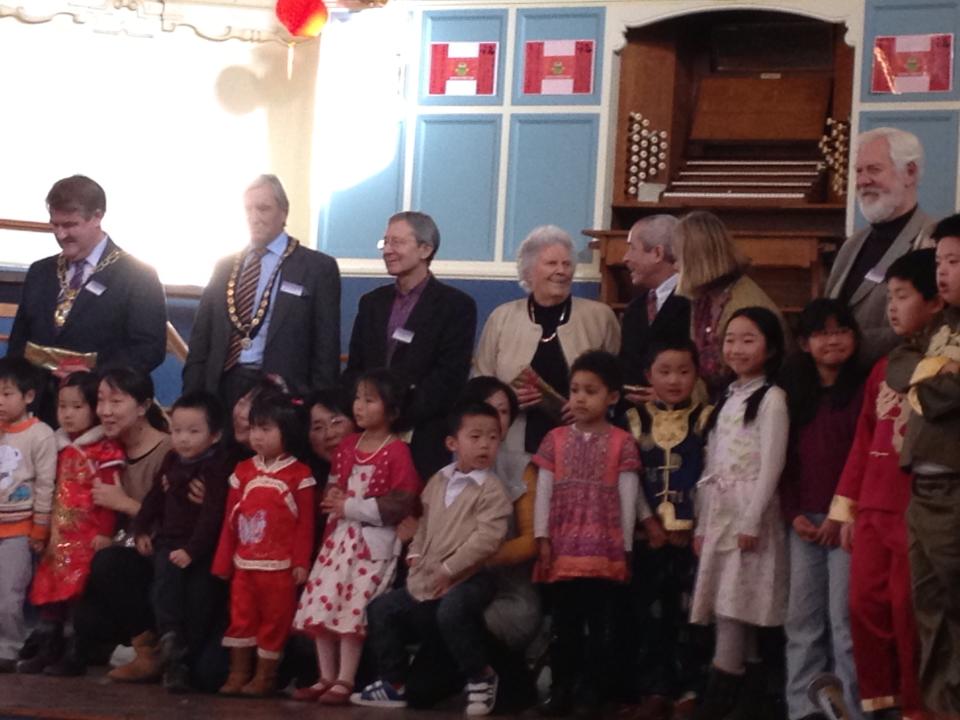 18th February - Council pre-meeting
19 February - Oxfordshire County Council
21st February - Health Overview Scrutiny Committee
Cherwell DC Group meeting
Churchill rehearsal
22nd February - Oxford University Familiarisation Visits
Dinner Merton College with Lord Patten
23rd February - Theatre Oxford
25th February - Strategy & Partnership Committee
26th February - English Speaking Union Committee
27th February - Knowing our Communities seminar
28th February - Lodge Rehearsal
1st - 2nd March - Conservative Councillors Association Conference - Belfry Milton Common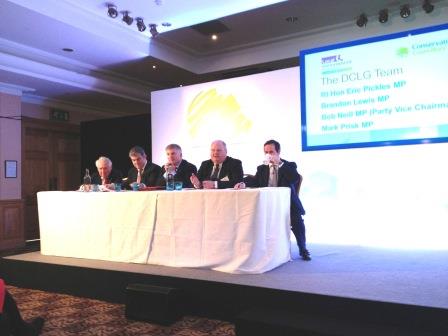 The Prime Minister, Matthew Barber, Vale of White Horse DC, The DGLG Team - Rt Hon Eric Pickles MP, Brandon Lewis MP, Bob Neill MP, Mark Frisk MP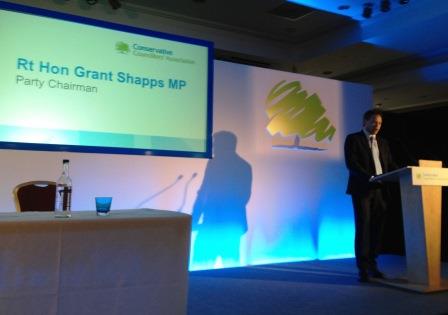 Rt Hon Grant Shapps MP
4 March - Churchill Lodge
5 March - Oxford Preservation Trust Trustees meeting
- South Oxford Conservative Association executive
6 March - Otmoor Archaeological & Historical Society - talk by Dr Allan Chapman
7 March - ICT meeting at County Hall
8th March - Chairman of Northants County Council charity dinner Rushton Hall Northants - 2 hrs drive on a Friday night!!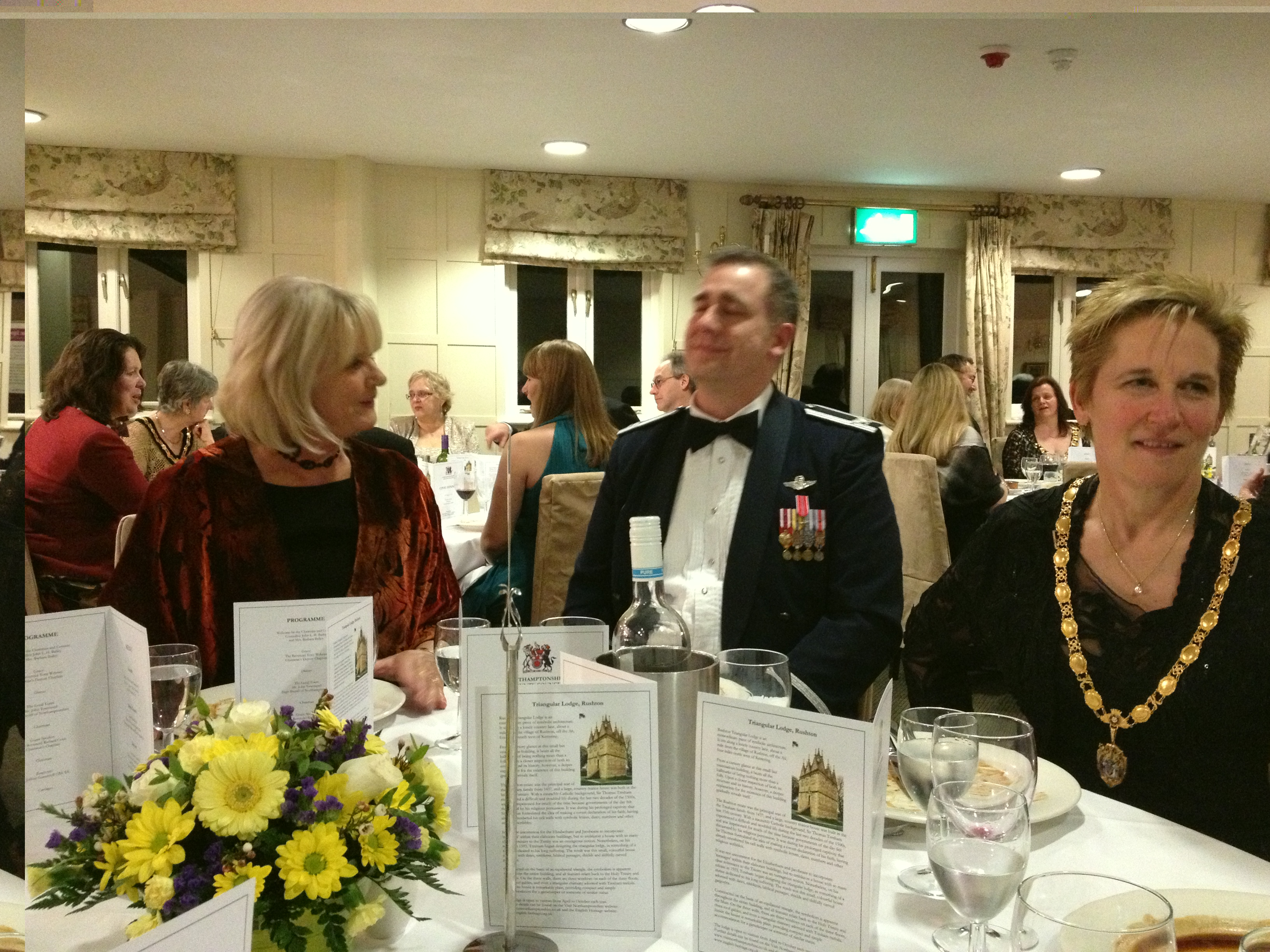 Jan talking to Colonel Charles Hamilton USAF
9th March - London to Adelphi Theatre
11th March - ESU visit to Rhodes House for talk by Rhodes Scholar
12th March - Merton - Islip - Kirtlington Parish Council meetings
13th March - Banbury Youth Arts Festival
14th March - Oxfordshire CC Group meeting and farewell party for standing down councillors
16th March - South Oxfordshire Conservative AGM Thame
18th March - Planning site meeting
- Election coordinating meeting
19th March - Locality Meeting County Hall
- Alfred Chapter meeting
21st - 25th March - Weekend in Rome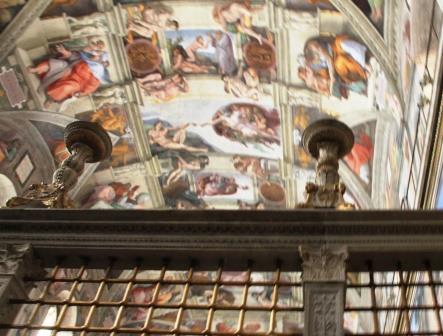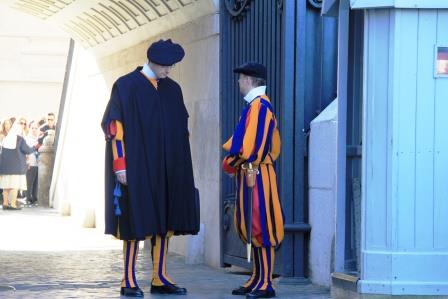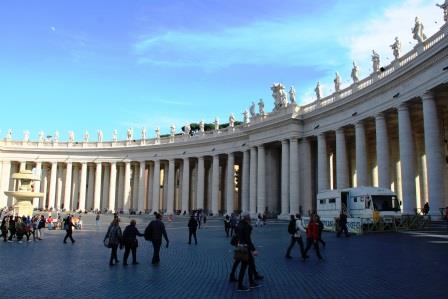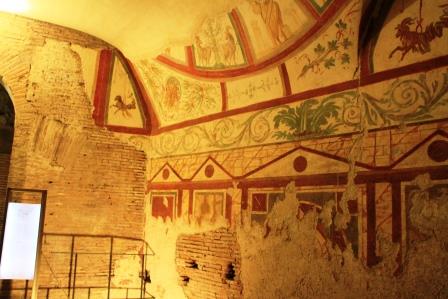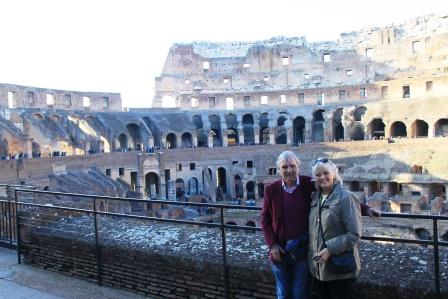 26th March - Funeral London
27th March - OCC Council pre-meeting County Hall
Conservative Group meeting
28th March - OCC Council Chairman and leaders briefing
- Bletchington Parish Council
- Otmoor Archaeological & Historical Society Committee
29th March - OSJ St John Passion Dorchester Abbey
2nd April - Oxfordshire County Council
Play about sexual exploitation - "Chelsea's Choice" County Hall
3rd April - Election leaflet distribution starts every spare minute!
3rd April - Cherwell Group Meeting
- Cherwell DC Licensing Committee
- Otmoor Archaeological & Historical Society AGM
8th April - Welfare Reform briefing Cherwell DC
9 -10th April - moratorium on electioneering due to Baroness Thatcher's death.
10th April - Blue Plaques Board
10th - 17th April - Election canvassing
18th April - Headway Charity Dinner - Bodleian and Exeter College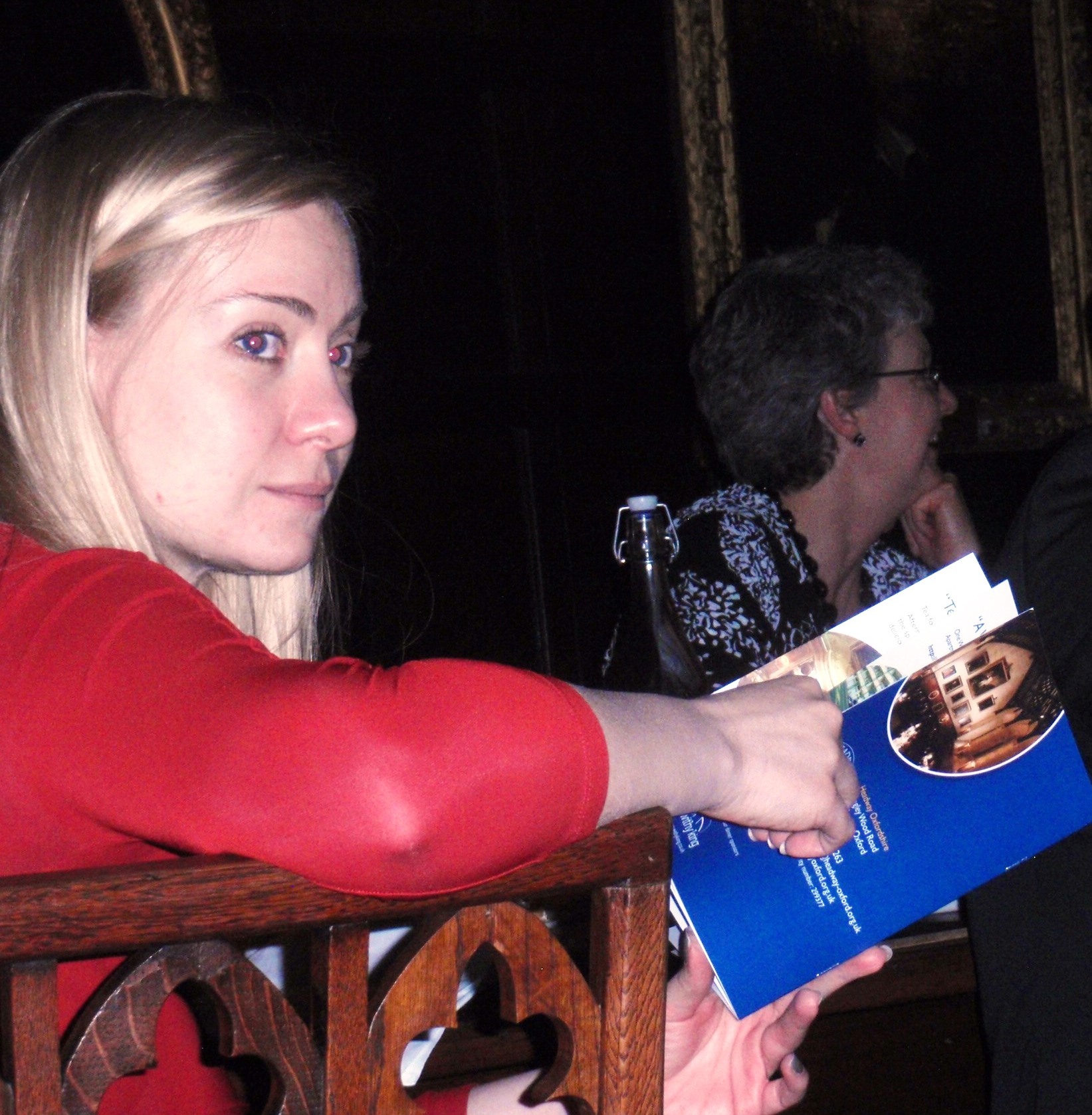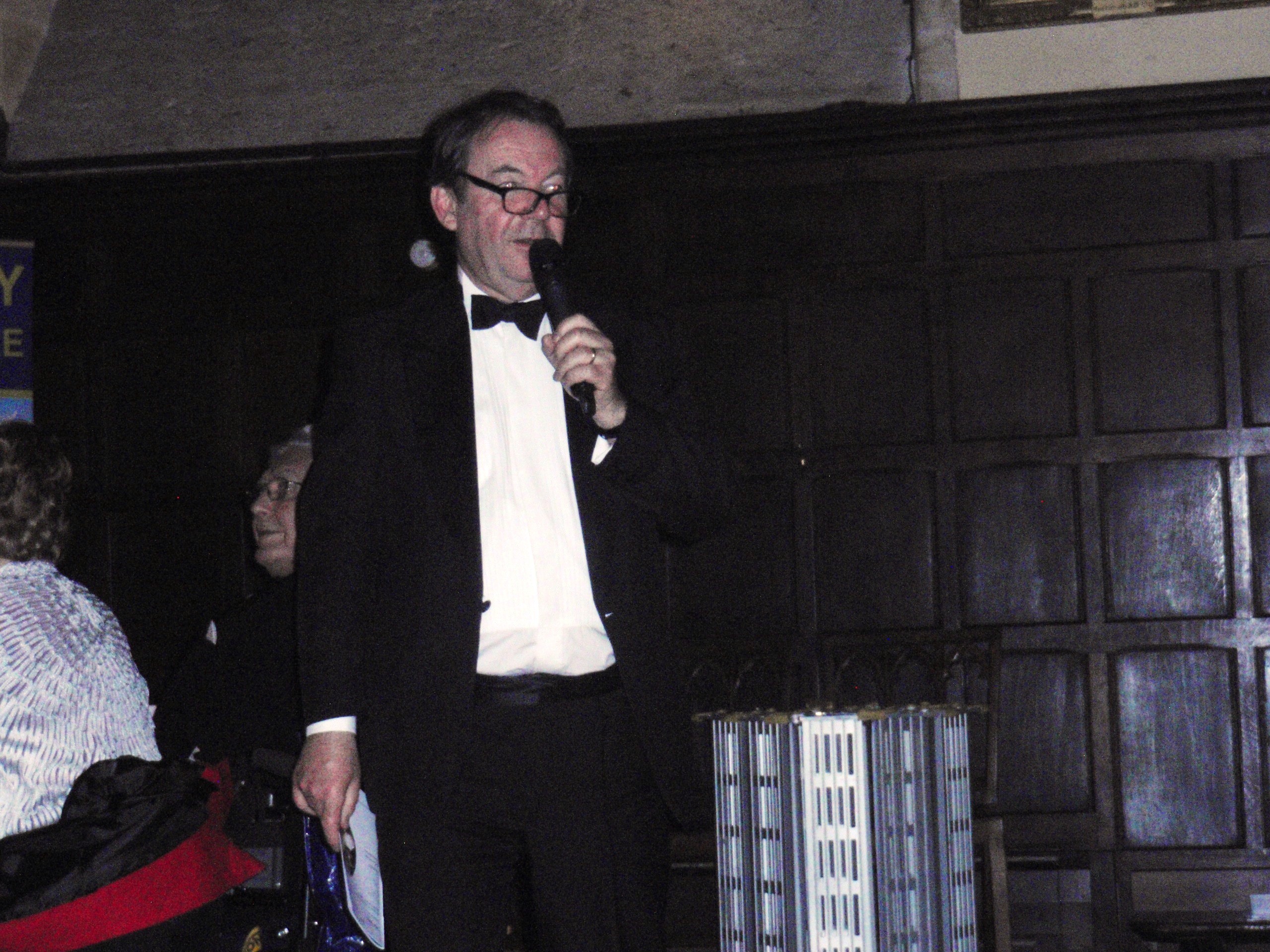 Nicola Blackwood MP supporting Headway charity - Eric Knowles (Antiques Road Show) charity auction
19th April - Cherwell DC Chairman Charity event at Broughton Castle

The great dining hall of Broughton Castle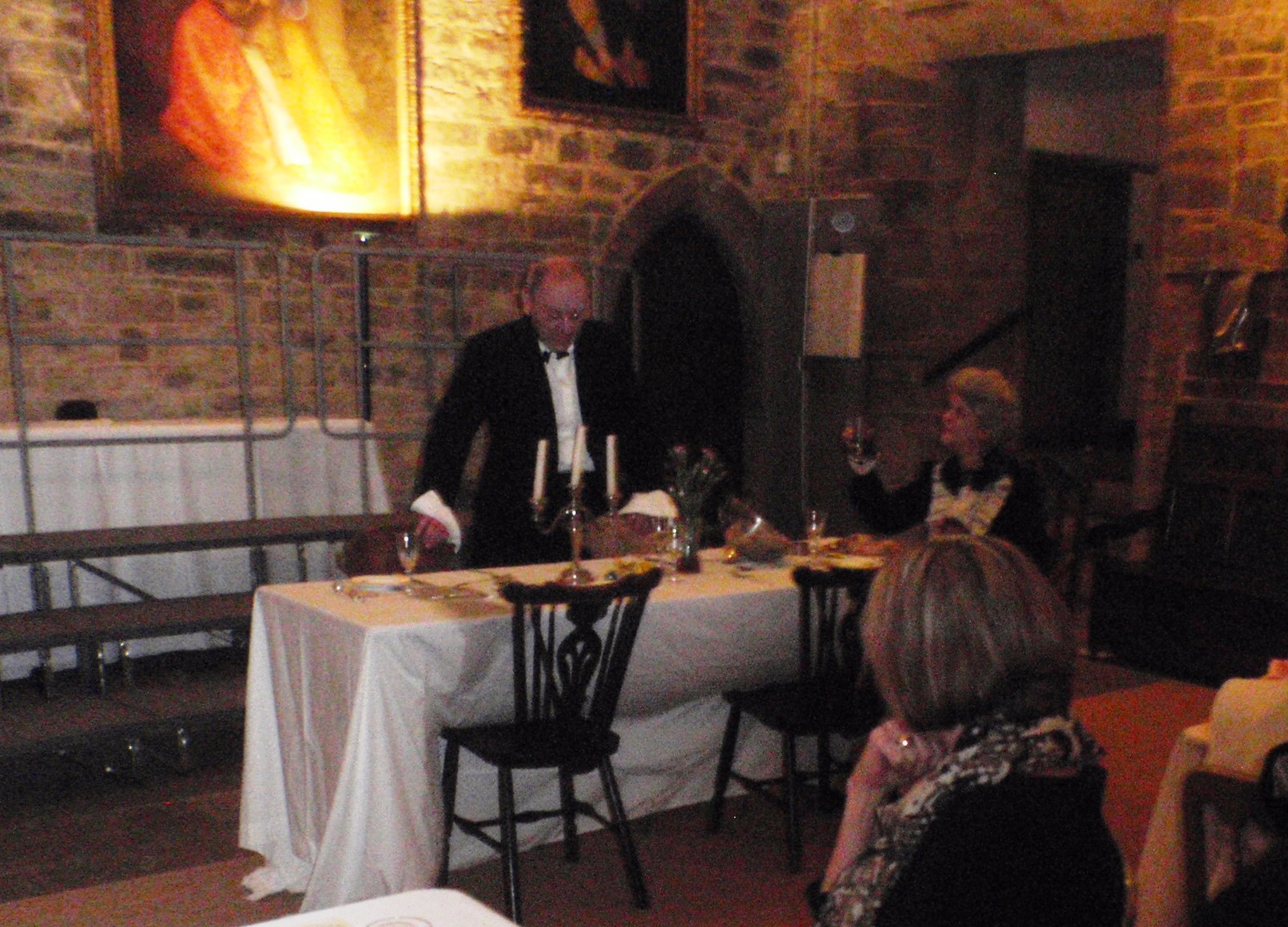 "Dinner for One" absolutely hilarious sketch
20th April - Churchill Lodge Dinner Ashmolean Museum

23rd April - Shakespeare's Birthday celebration Painted Rooms, Cornmarket plus drama in Queen's Street with a small fire in the Westgate Library. Children from Pegasus School, Blackbird Leas read their poems about the Pained Rooms. Prof Laurie Maguire, University Professor of Literature gives a short address.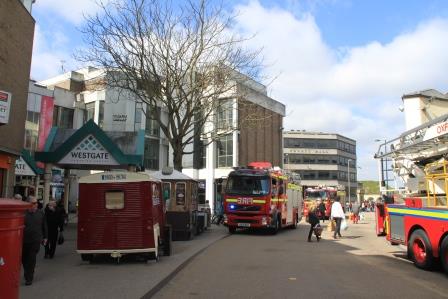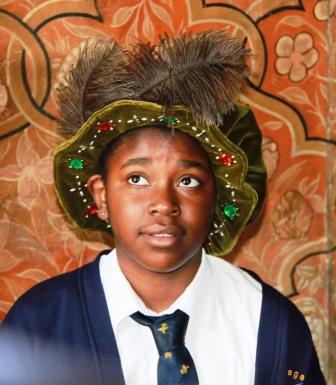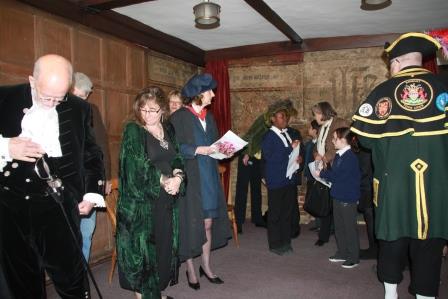 24th April - Army Benevolent Fund lunch at Dalton Barracks Abingdon
26th April Canvassing with Dr John Howell MP in Oddington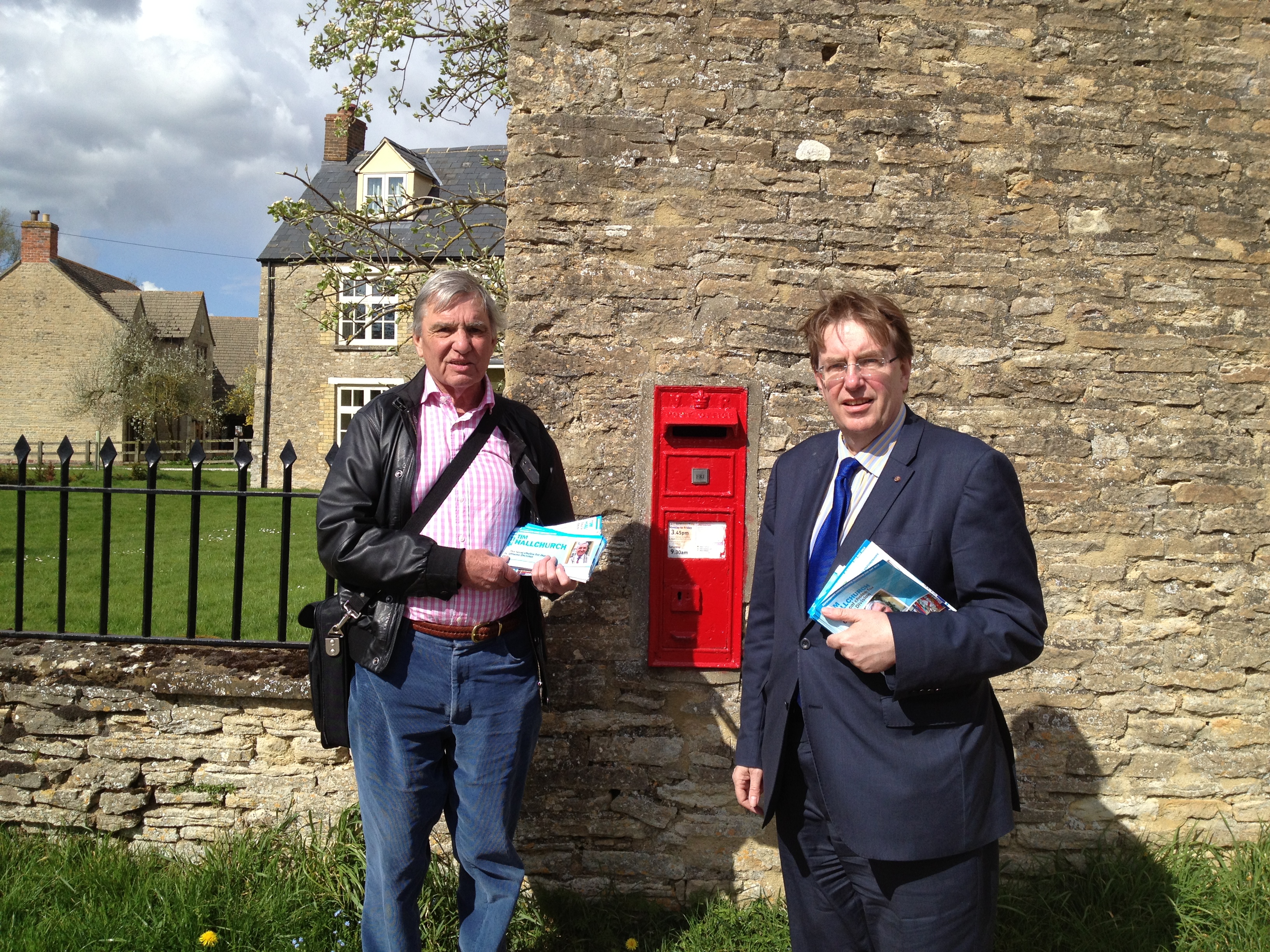 2nd May - Polling Day for OCC elections - voted for Anthony Gearing
Wedding of Ron Venn and Wendy Russell at Oxford Registry Office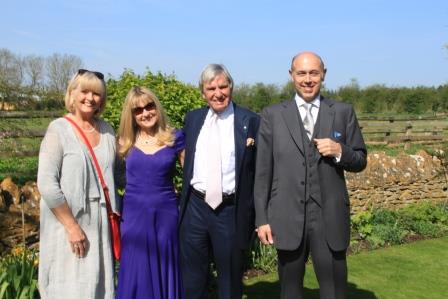 3rd May - County Council election count
3rd - 6th May - Lulworth Dorset Army Ornithological Society AGM and Dinner.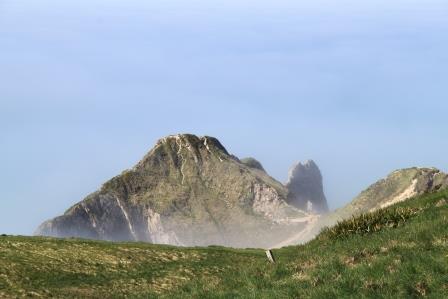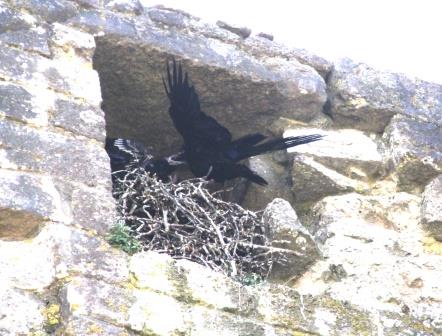 Durdle Door emerging from the mist - Raven feeding chick at Corfe Castle
7th May - JR Hospital for tests after a mini-stroke last week
English Speaking Union lunch and talk at Christ Church College
Arncott & Piddington Parish Council meetings
8th May - Cherwell DC Group Meeting Banbury
9th May - Richard Benson Society of St John Blue Plaque unveiling Marston Rd, Oxford
- OCC Councillors induction and photographs
- Horton cum Studley PC (too late to get there!)
10th May - OCC reception newly elected County Councillors
11th May - Visitors for the weekend
13th May - OCC Pre-Council meeting with group leaders
14th May - elected Chairman Oxfordshire County Council
New Blog
-