A Worcestershire Family
the CD-ROM version of the family history.
The CD-ROM of the Hallchurch - Allchurch and related Pipe and other families is now available.
The CD-ROM contains about 550Mb of data including over 100 compressed pictures. The CD-ROM contains more information than it is possible to include in a book.
CD-ROMs can be tailored to a particular family, to include photographs and documents that the family may not want to the circulated beyond the immediate family, please e-mail your requirements.
CD-ROMs will be sent out to order price £25 or equivalent (£28 overseas). Please e-mail your order. Family members and their descendants will be invoiced with the CD-ROM. Others please cash or check with order.
---
The Book
The book version will be going to the printers as soon as some final information arrives from Canada and Australia. About fifty members of the Allchurch/Hallchurch family and their descendants have contributed to the project and have lent their old photographs and documents that have been included on the CD-ROM. selected photographs and documents will be used in the book.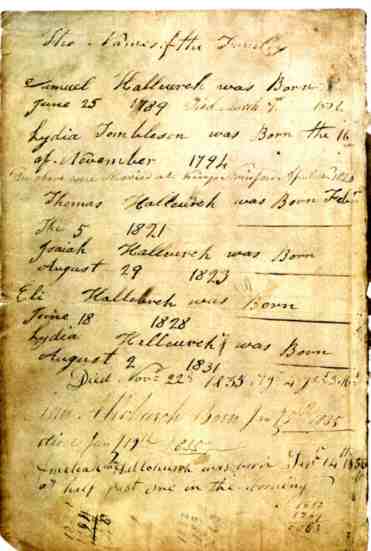 Page from the Hallchurch family bible showing the birth-date of Samuel. It was later found that this was the date of his baptism. The full bible pages is included on the CD-ROM.
The book version will be in A4 format with over 250 pages of text, 150 pages of tables and names and about 50 pages of pictures and documents. The price will be posted on the web site as soon as it is available, but is likely to be about £30.
E-Mail - timothy.hallchurch@oxfordshire.gov.uk