Noke
Otan-ock = place of the Oak
Population 1993-127, 1996-123, 2001-117, 2002 - 116 (103 electors)
Households 1993-52, 1996-52, 2001-52 (2001 forecast)
Chris Cheetham's Snippets (click)
Dr Christopher John Cheetham 1943 - 2004
With the sad and untimely death of Chris Cheetham, Noke has lost a very individual character who over the 40 years of his connection with the village gave of his time and intellect in so many ways. Everyone will have their own personal memories of Chris and I suspect for many the image of him in tracksuit and a fleece, a battered tennis racquet in one hand and ball in the other, taking the dog for her daily constitutional to the playing field will be long lasting. But that is nothing like the whole picture. As a village we knew of his interest in everything local and are grateful for the pamphlets he wrote for the church, for the protracted battle he fought for the parish meeting to have the audit fees reduced and latterly his generosity in providing more underground piping for the drainage as he didnít think Cherwell had thought it through sufficiently for a satisfactory outcome. These were products of his retirement years and it is important to remember his earlier days too and appreciate what a talented and exceptionally clever man he was.
He went up to Oxford to read Chemistry at Brasenose in 1960 and finished with a First in an era when only 5% of graduates achieved this. For his graduate work he was elected to a Senior Hulme Scholarship and for his doctorate he joined the group of Richard Barrow in the Physical Chemistry Laboratory. It was a time when computing was starting to take off and Chris being in his element quickly became a front-runner.
The Universityís first computer Mercury, built by Ferranti was a world leader but by the time of the second, an English Electric KDF9, British computer hardware was in rapid and terminal decline. Graham Richards, a colleague and great friend of Chrisís had been in Paris and brought back with him a program that he felt sure could not be made to run on KDF9. Chris with his interest and enormous capacity for hard work took only a few weeks to succeed.
This major talent was recognised by his winning a prestigious Prize Fellowship at Magdalen and then moving to become head of soft ware at the University Computing Service. A remarkable achievement for a man trained as a chemist.
English Electric became part of ICL and having experienced Chrisí work at the University they quickly realised what a talent he had and managed to lure him into industry where he became a major figure in software development and rose to the very top.
Chris then took early retirement and came to live at the Manor in Noke, but he did not work any less hard - and he had so many interests.
His love of Opera and music encouraged him to take an Open University degree in music; his love of history and archaeology encouraged him with other enthusiasts to initiate the - very successful - local archaeology society and, of course, much time was spent gardening of which he was very knowledgeable. Whatever he turned his hand to he became an expert in that field and I have heard it said that had he had been given a book on farming he could have been a successful farmer in a few years!
Chris was a person who cared and indeed felt passionately about his various interests this led to him being an indefatigable writer of letters and articles to newspapers, magazines and companies. His last such foray led to the company concerned sending him a dozen bottles of vintage wine íto thank him for his constructive observations.
Chrisís death has left a large gap in our village life and there is no doubt he will be sorely missed. To Su, his other half, for 17 years we send condolences and support.
<![if !vml]>

<![endif]>
The one thing that does spoil Noke is the litter that people thoughtlessly toss out of their car - the Cadburys creme caramel fiend is still around! - or is simply dumped. Many villagers do tidy up when they have time but at this time of year it is a good idea to have a comprehensive ĎLitter Pickí before the growing season really starts and Saturday 3rd April is the chosen day. Meet outside the Church at 9.30am where you will be given gloves and a refuse bag. If there are enough people it really doesnít take long and you will be amazed how much rubbish is collected.
Bank Holiday Monday May 6th 2002 Noke Plant Sale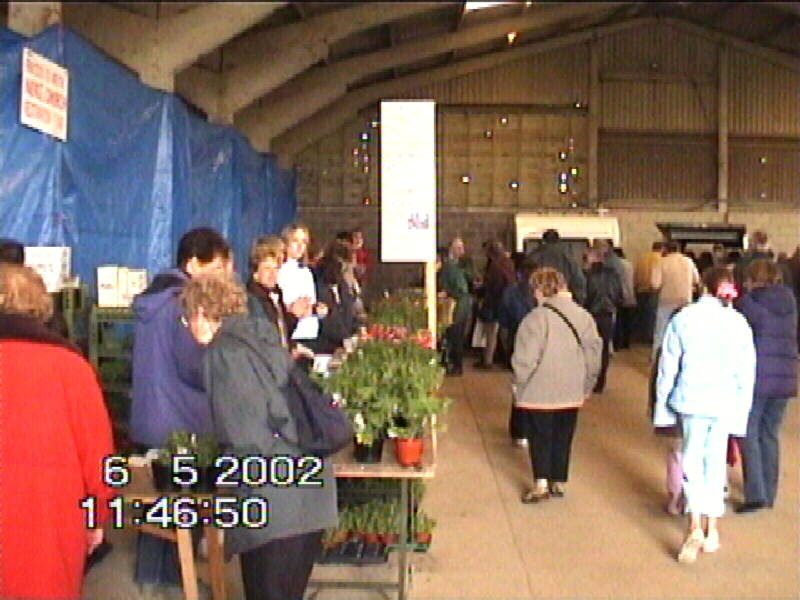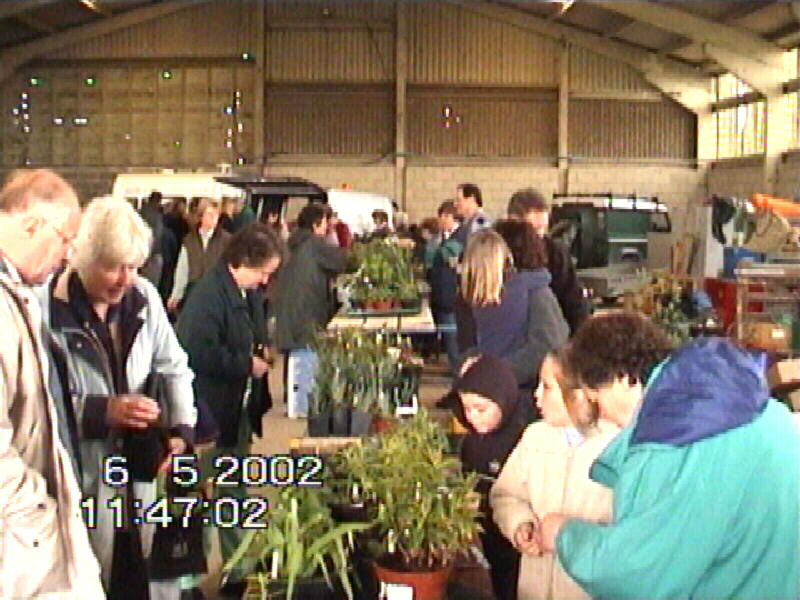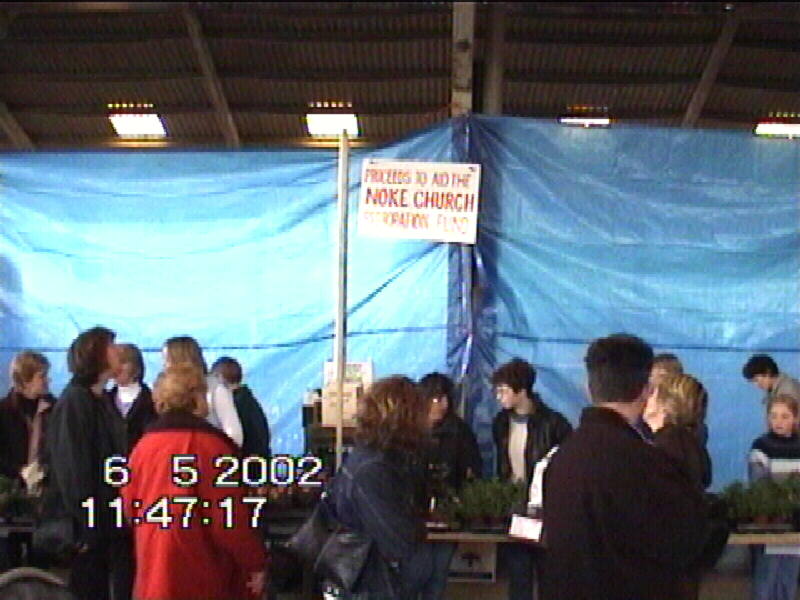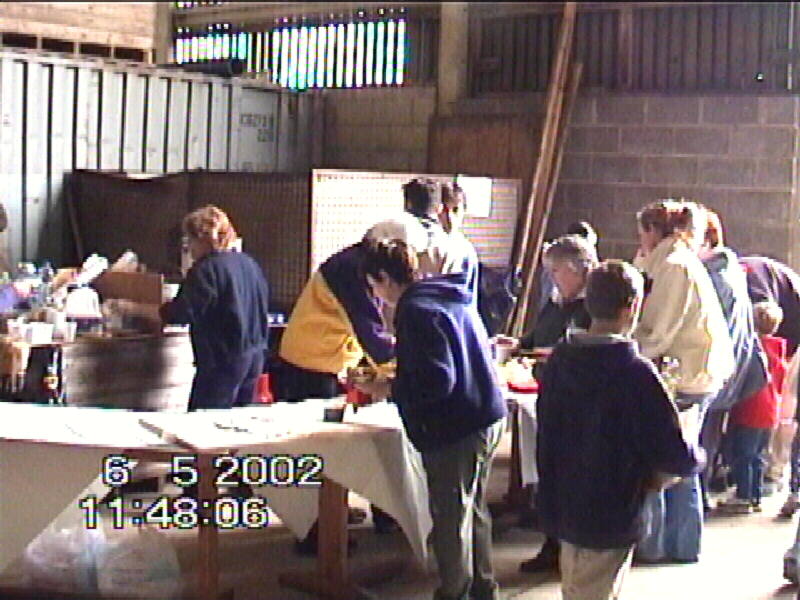 Pictures of Noke Plant Sale
---
Once again our Plant Sale was a true community effort, and as a result of so many peoples hard work c. £1,995 was raised for the Church Restoration Fund. This sum will, undoubtedly, be much needed, as there will shortly be the Quinquennial Inspection when we shall be informed of the necessary work to be done to the fabric of the church over the next five years.
Without doubt, Di Leadbitter shouldered the overall responsibility for the plant sale and our thanks and congratulations for her efficiency and attention to detail go to her first of all. Other knowledgeable gardeners were vitally important as well, in particular Denise Dell who had worked for months on the project and also to Pat and Russ Dunn.
Thanks too to all who made cakes and biscuits and to Anne Johnson and her helpers who ran the refreshments and cake stall and indeed to all who gave their time and effort in so many different ways.
We are, of course, greatly indebted to Austen and Emma Righton who allowed us the use of their barn for the sale. It makes a huge difference being able to organise the plant stalls the day before and we are enormously grateful to them.
---
The parish church of St. Giles, Noke, now has its own internet website, whose address is: http://home.btconnect.com/stgiles_noke
The site provides a short history of the church, photographs, and a plan, and also makes available information from the parish baptism, marriage and burial registers (from 1574/5 to the 1960s), and the census returns from 1841 to the most recently published (1901) data, which we hope will be of interest to those researching their family roots in the Otmoor area.
Noke has a strong connection with the Harper family. John Harper, a Quaker, emigrated to America with his wife and five children aboard one of William Pennís fleet in 1682, becoming one of the first families to colonise Pennsylvania, and settling in a township just outside Philadelphia, which they named Oxford. The family is known in the village from the earliest parish records (1575), and the remains of the tomb of Johnís grandfather and father (both also called John, who died in 1617 and 1667 respectively) can still be seen in the churchyard. One of John Harperís grandsons is thought to have founded the settlement of Harpers Ferry in West Virginia, now a famous beauty spot and National Park, and other descendants are believed to include Harpers, the publishers.
Since it was set up at the beginning of January 2002, the website has already had 12,000 visitors, and we have received enquiries from families not only in Britain but also from the USA, Canada, New Zealand and Australia, some of whom have expressed an interest in visiting the area.
We hope that genealogical researchers using the information will make a small donation to the Friends of St. Giles towards the church restoration fund. In addition, we are offering a few advertising spaces to local businesses who might wish to offer accommodation or other services to visitors. The email address for enquiries is: stgiles_noke@hotmail.com.
The website will be extended to include other village records, such as the school log books, and photographs. If anyone has any old photographs of the village or local families, which we could borrow for a few hours to copy, we would very much like to include them.
Neighbourhood Watch: Mr M Dell 378220
---
| | |
| --- | --- |
| Thatched Cottage in Noke | Noke Church |