Oddington
Population 1993-89, 1996-106, 2001-110, 2002 - 109 (98 electors)
Households 1993-41, 1996-48, 2001-50 (2001 forecast)
Otendone 1086 Domesday Book; Ottendune 1137 ( Ottendun, Ottendone, Ottendon); Otenddon 1206, Otigdon 1278-9, Otyngdone or Ondytone 1285, Odingtone 1526 meaning possibly Otta's Hill
The Church of St Andrew contains surviving Anglo-Catholic furniture and brass together with a large pieta as a memorial to Maori dead of First World War. The Church possesses a 14th Century preaching cross; 13C tower; 14C Chancel; 1810 porch. The nave was extensively restored in 1884-6.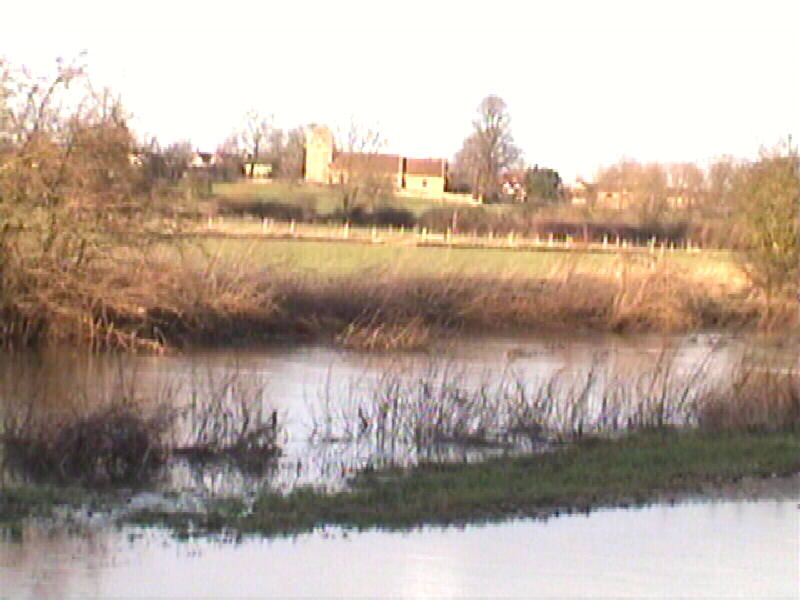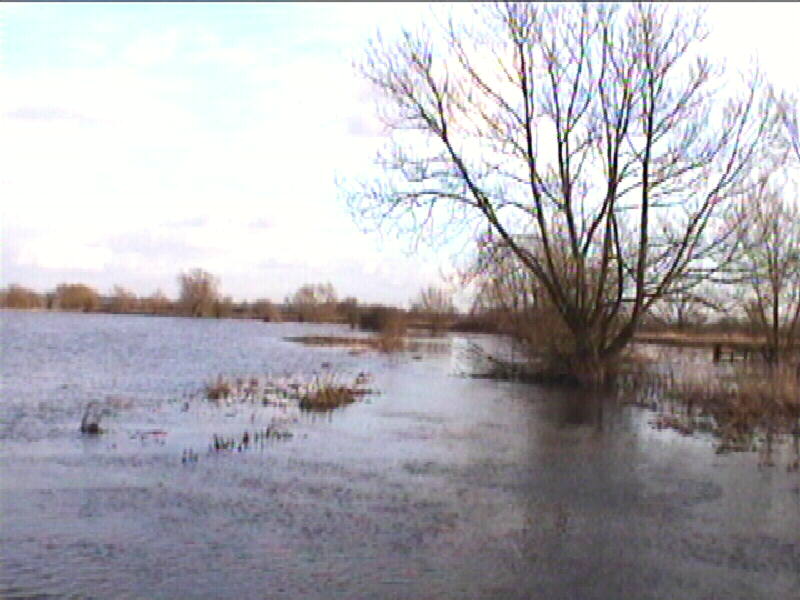 Noke Church from across the flooded river Ray January 2003 and the flooded "old" Ray as it joins the main river.
Cistercian Abbey at Oddington
The Cistercian order of monks was named after their home abbey at Citeaux in France.

In 1138 Robert le Gait founded a Cistercian Abbey at Oddington, near Islip, on Otmoor. The land he gave to the Cistercians was however described as "fitter for an ark than a monastery".

The Bishop of Lincoln, Alexander de Blois, was lord of the manor of Thame and had been planning to use an area of seemingly enclosed parkland between Thame and Sydenham as a deer park, for his own hunting pursuits.

This changed when Robert le Gait's Cistercian monks could no longer tolerate the wet conditions on Otmoor. Alexander donated his land at Thame to the Cistericans, and this gift was confirmed by the Pope in 1141.

The monks moved from Otmoor to Thame between 1138 and 1142, during which time an Abbey was built at Thame Park. The abbey church at Thame Park was consecrated in 1145.

Cistercian abbeys were always named after the Virgin Mary, and the abbey church at Thame Park became known as Sancta Maria de Parco Thame.

---
| | |
| --- | --- |
| | |
Oddington Norman Church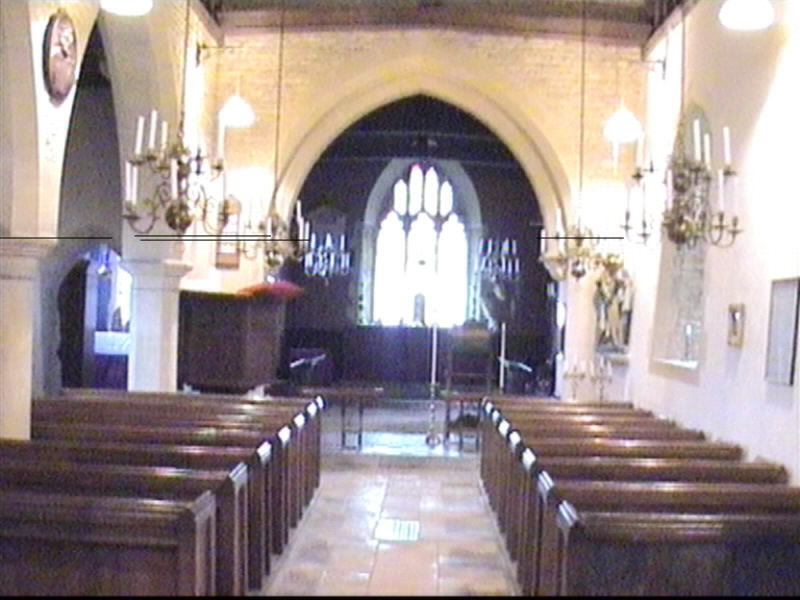 The grave of the Maori Princess at Oddington Church The Guardian 24 April 2000
Quarter Sessions 24 April 1773.

William Blakeman and John Sellar to be whipped for stealing ribbons; John Young of Oddington to be imprisoned for six months for issuing false coinage.

Inside Oxfordshire villages: http://www.spaceagency.co.uk/villages/v_detail.php?id=779

Transcript of Parish Registers - ODDINGTON ODDINGTON. OXFORDSHIRE. Transcript of Parish Registers. Oddington (Oxfordshire) Baptisms. 1749 Sep 24 EUSTICE William s George & Ann 1751 Oct 10...
http://dspace.dial.pipex.com/town/square/ga40/oddg-ton.htm

| | |
| --- | --- |
| Letter box over 100 years old with Queen Victoria's cipher "VR" in Oddington | Peaceful lane in Oddington unchanged for generations |