Otmoor Archealogical & Historical Society
The society goes from strength to strength under the chairmanship of Chris Lowe. The Society meets monthly during the winter months and monthly events during the summer. All are welcome to the meetings but non-members will be charged £3.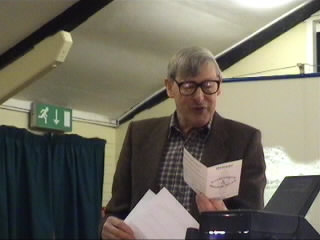 More committee members are needed, we need a representative from each Otmoor "town" and other villages. A programme of monthly activities has been arranged.
A piece of Medieval tile was also found at Horton cum Studley by members,: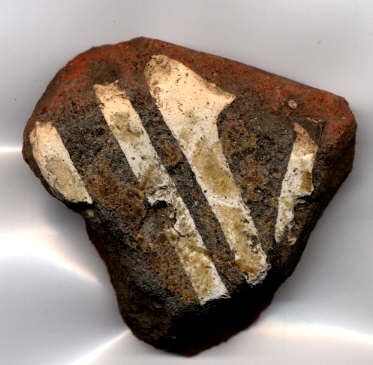 Further excavations are being planned.
WINTER  PROGRAMME
2016/2017
WEDNESDAY, 7th SEPTEMBER 2016:  8.00 p.m.  – ISLIP VILLAGE HALL
Mr. Christopher Lowe
            "Islip Inns"
WEDNESDAY, 5th OCTOBER 2016:  8.00 p.m.  – ISLIP VILLAGE HALL
Liz Woolley
"Beer, sausages and marmalade: Oxford food and drink in the 19th C."
WEDNESDAY, 2nd NOVEMBER 2016: 8.00 p.m. – ISLIP VILLAGE HALL
Dr. Stephanie Dalley (Oriental Institute/Wolfson College, Oxford)
            "The Hanging Garden of Babylon: The solution to an old problem"
WEDNESDAY, 7th DECEMBER 2016: 8.00 p.m. – ISLIP VILLAGE HALL
Dr. Ben Ford (Oxford Archaeology)
"The Westgate Project"
WEDNESDAY, 1st FEBRUARY 2017: 8.00 p.m. – ISLIP VILLAGE HALL
Dr. A. Johnson
            "Google Earth"
WEDNESDAY, 1st MARCH 2017: 8.00 p.m. – ISLIP VILLAGE HALL
Dr. Eleanor Standley (Inst.of Archaeology & Dept. of Antiquities, Ashmolean Museum, Oxford)
"Dress and Everyday life in the Medieval Period"
WEDNESDAY, 5th April 2017: 8.00 p.m. – ISLIP VILLAGE HALL
Annual General Meeting followed by a short film
---
The first outdoor event was a conducted tour of Studley Priory 4 September 2000 Pictures.
4th May 2002 - Morning Walk on Otmoor. Nigel Gilmour assisted by his sister Jane, an entomologist and botanist lead a walk across the SSSI and MOD Range.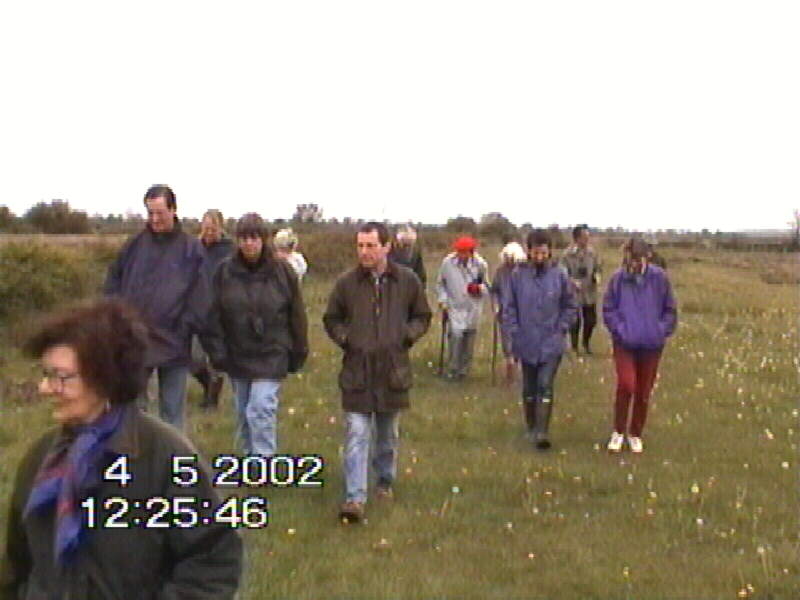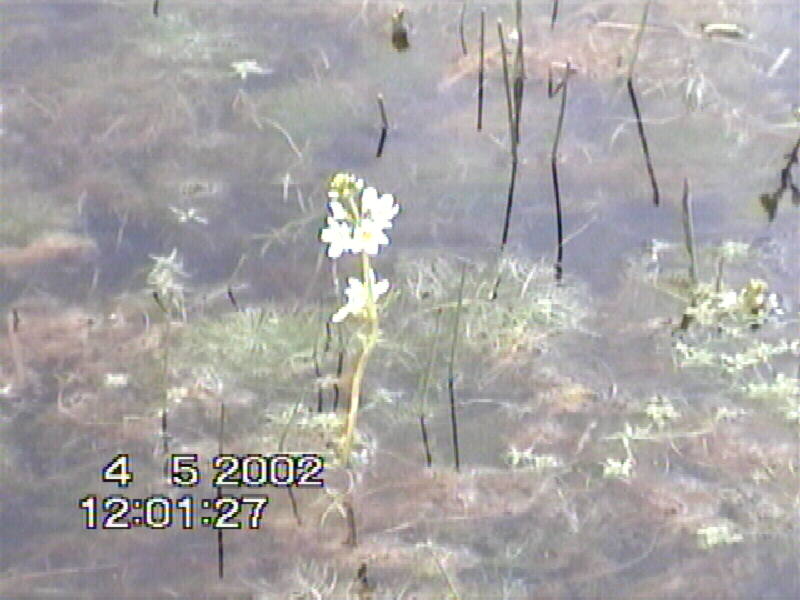 Walking along the Roman Road Water Violet in Fowls Pill
On 31st August 2003, a field walk and survey over the area of the lost village of Asham took place to look for the site of Asham Hall. The visit included a magnetometer survey that showed a possible Roman ditch. In the field search the pottery appears to be about 50% Roman and 50% medieval. The pottery is being washed and identified and full results will be published on this site. Much of the pottery was identified on site thanks to Dr Maureen Mellor from the Ashmolian Museum.
| | |
| --- | --- |
| Setting up the magnetometer grid | The Chairman and Dr Maureen Mellor |
| Surveying the grid | Tony Johnson with his magnetometer |
| Examining the pottery | Hard work searching in the stubble |
| Tony Johnson relaxing after the survey | A view from the site |
The survey probably posed more questions than it answered. To definite site of a hall were found although much Roman and Medieval pottery was found including pottery from Brill. A ditch was detected across the site with a possibility that it is Roman. The site was re-visited on Saturday 28th September, after the area has been ploughed and to investigate the ditch further.
A small trench was dug across the ditch, and a substantial collection of pottery was recovered. The surface level was a mixture of medieval and Roman period, but as we dug down, signs of the ditch being filled with iron smelting debris was recovered including iron clinker, burned clay and pottery. The bottom layers contained pottery that has been identified by Dr Paul Booth, of the Oxford Archaeological Unit, as first century Roman..
There will be a further dig over the weekend 27-28 August, subject to the crops having been harvested. Meet on the site at 9am (please ring Pat Dunn 01865 372264 for further details)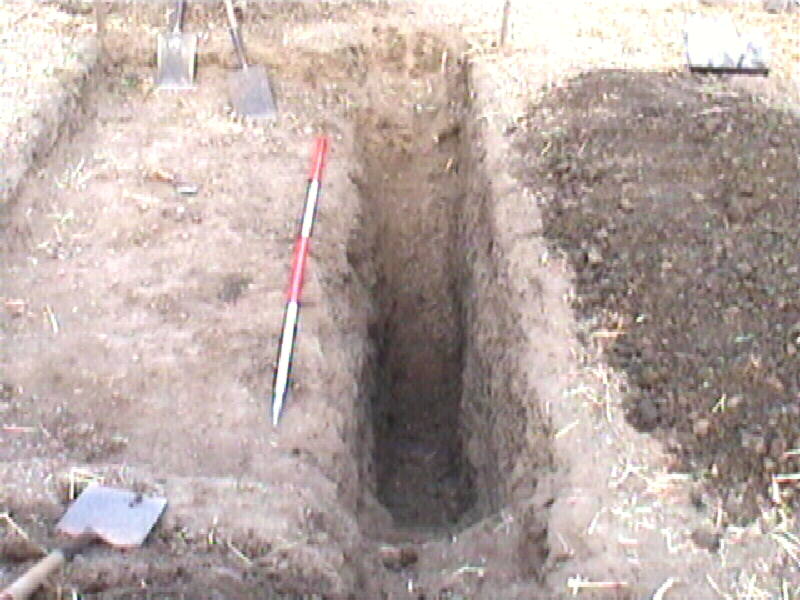 The ditch was about 1.5 M deep and 2 M wide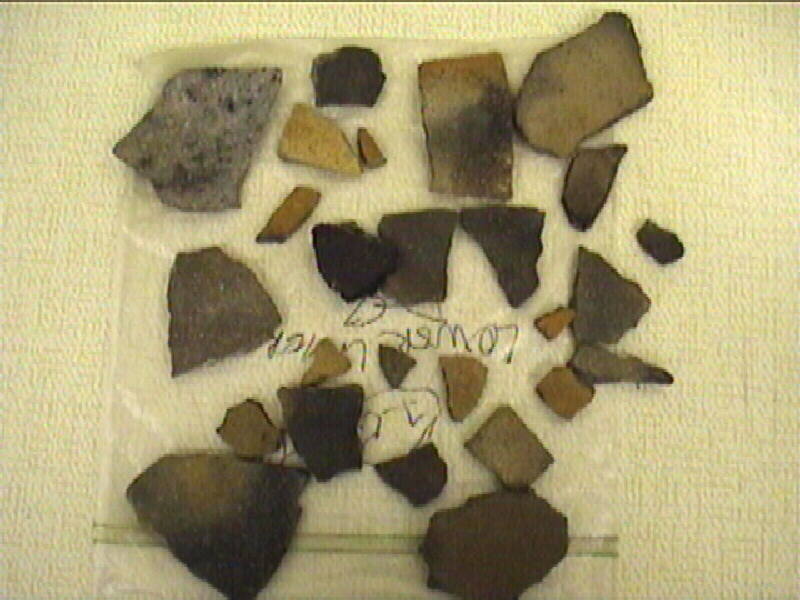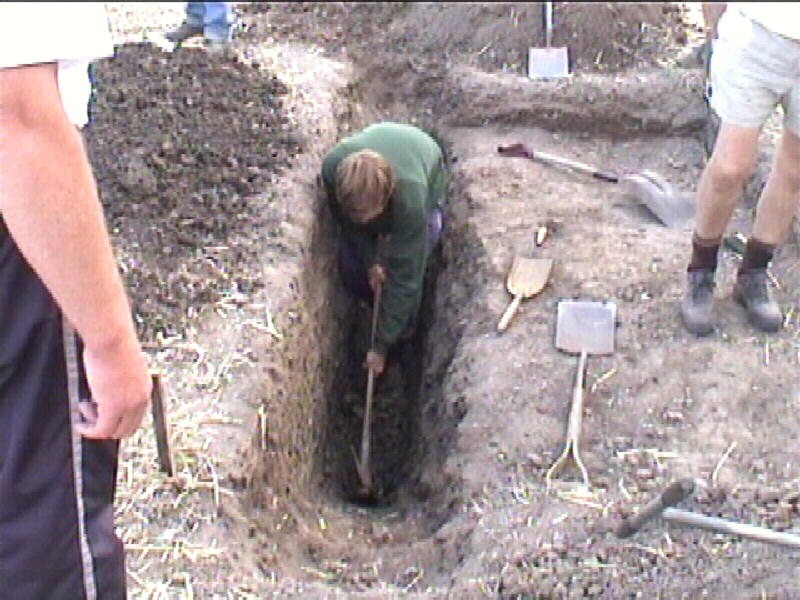 Some of the middle layer finds with burned clay and potter. Archaeologist Edward Shayer digging.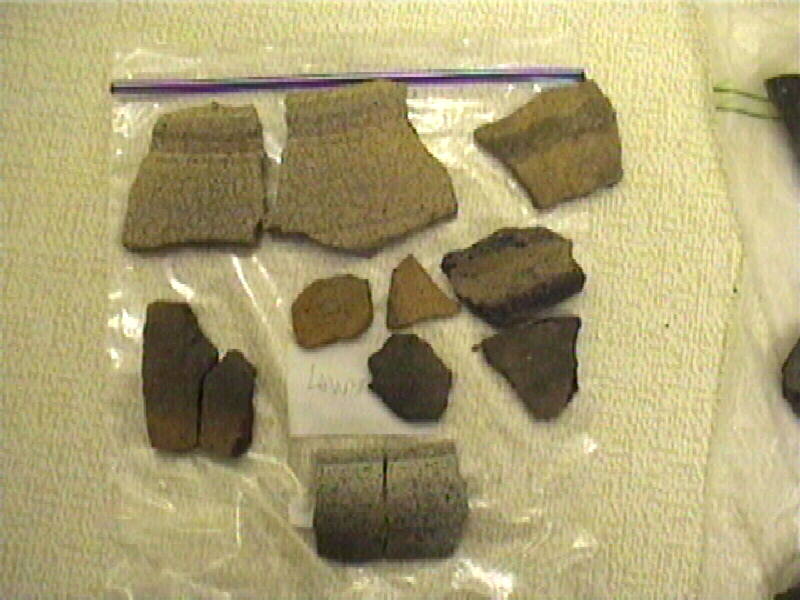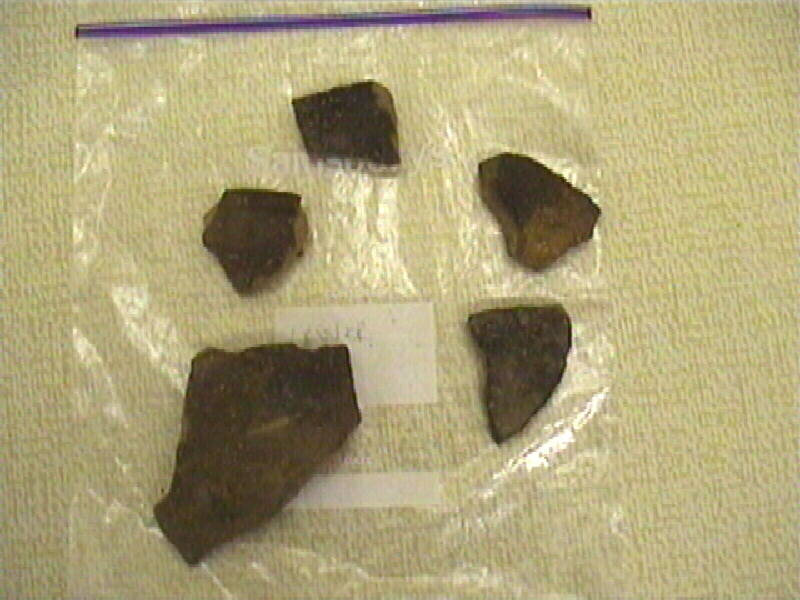 Middle layer finds all first century AD
Our thanks to Mr Steve Whidbourne, the landowner for permission to survey the area.
The result of the survey and dig brings into doubt that the site of Asham Hall was in the area surveyed.
On Wednesday 2nd October 2002 Mr Paul Smith Oxfordshire County Archaeologist, Reviewed Recent Archaeology in the Shire.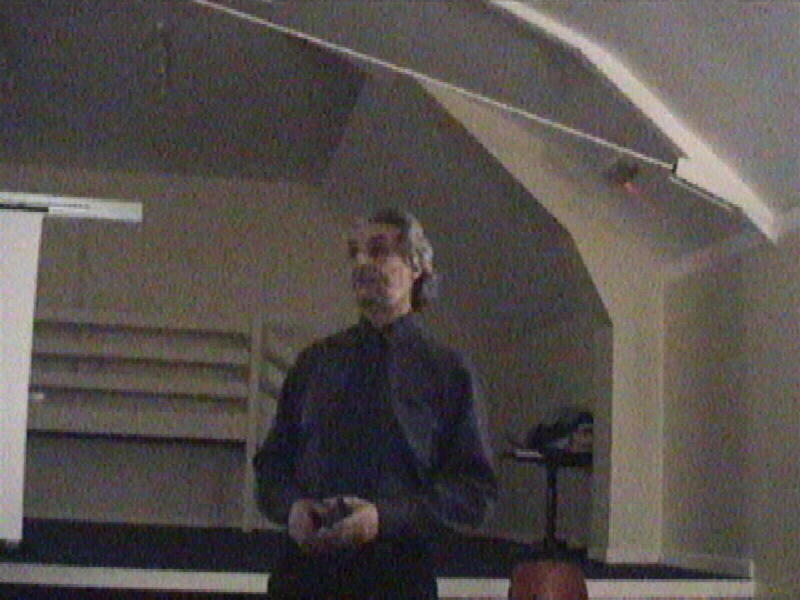 Paul Smith, Oxfordshire County Archaeologist.
There is an annual membership of £7.50 plus £2 per event for visitors. This is to cover mailing, tea and coffee at meetings, printing and other expenses such as speakers expenses.
This item made of bronze, was found in Waterleys field Horton cum Studley in October 2002 by Mr Bob Wakelin. It is probably a copy of a bulla, a lead seal that was affixed to an official document signed by the pope. If it had been a lead seal , there would probably been a second or back seal and connected together with a cord that was fixed to the document. This item looks as though it had been adapted as a brooch. - The Writing of Gre Gorius PP VlIII for Pope Gregory VIII and will be dated circa 1187. A large number of bullae have been found and it is likely that many are not official issues, and this one made of bronze was likely to have been a contemporary copy. Below lead bulla found near an old church in Suffolk. This item was identified by Bob Wakelin when the picture below was published in his copy of "The Searcher " January 2003.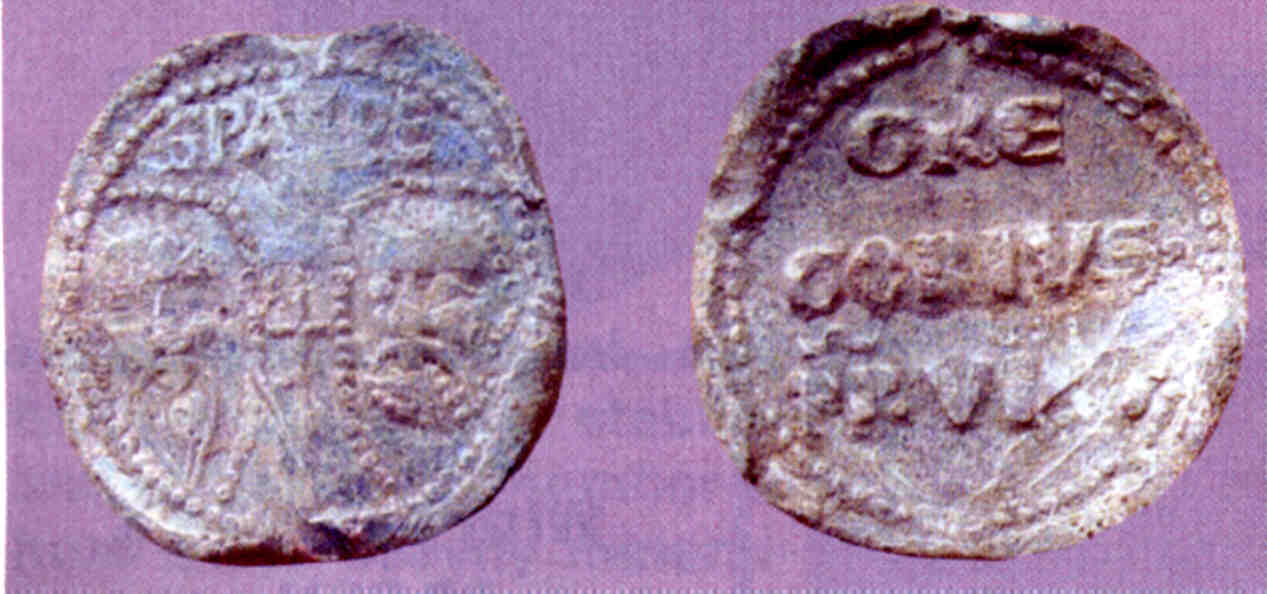 Any ideas or suggestions for events are welcome. E-Mail timothy.hallchurch@oxfordshire.gov.uk
Committee
Chairman Christopher Lowe 01865 379072

Technical Director Tony Johnson 01865 375536

Treasurer Russell Dunn 01865 372264

Member Tim Hallchurch 01865 377099

Member Bruce Tremayne 01865 331289

Secretary Pat Dunn 01865 372264

Custom Search

g

Part of map at New College showing Studley Windmill - c 1680
Ratcliffe Infirmary Site archaeology: http://www.museumoflondonarchaeology.org.uk/News/Archive/News09/oxfordradcliffe.htm
Oxfordshire Family History Society - Holford Centre
Holford Centre is located just off the B4027 Wheatley to Islip road.
www.ofhs.org.uk/holford.html
Oxfordshire - The Civil War and Islip
www.sci.net.au/userpages/mgrogan/oxford.htm
Map of the old Parish of Beckley
The 1919 sale of the Earl of Abingdon's Estate
1641 Map of Horton cum Studley
Doomsday Book references to Otmoor
Draft history of Horton cum Studley with more pictures
1665 Hearth Tax Returns for Otmoor
Transcripts of Parish Registers:
Oxfordshire Maps
http://web.comlab.ox.ac.uk/oxinfo/maps/